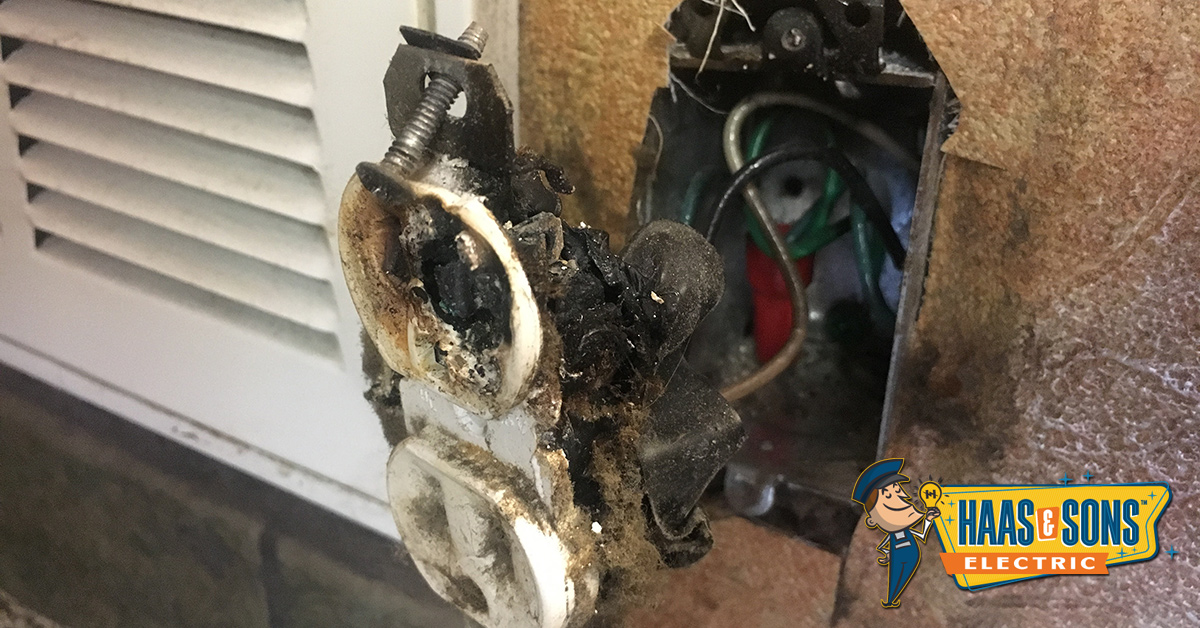 Why Is My Outlet Hot To The Touch?
Have you come across a outlet that is hot in your home? These days it is something we see more and more. First, we should say, an outlet should never be too hot to touch.  If it is, call us right away and we will guide you.
However, a warm outlet may not be a problem that needs an electrician.
When you come across a hot outlet, we suggest you unplug anything that is plugged into that outlet.  Many devices, such as cell phone chargers and printers have a built in transformers.   These transformers change the voltage input to a different voltage output and may cause the outlet to become warm to the touch.  In this case you should leave the devices unplugged for an hour or so and check again to see if the outlet has cooled.  If so then it was probably caused by the device itself and is not your outlet. To be sure, plug in a lamp and check on the outlet in an hour.  If it is still cool, then you are most likely okay.
SO, WHAT HAPPENS IF YOU COME BACK IN AN HOUR AND THE OUTLET IS STILL HOT?
If the outlet is hot when only one simple object is plugged in or no objects are plugged in it is most likely caused by overload.  Because most circuits in a home are wired in a series, the outlet in question doesn't currently have to be working to overload.  It may be that the series is overloaded. This happens because the electrical circuit is carrying more current than it is meant to handle.  Sometimes before it trips the circuit breaker it will cause the outlets on the series to overheat.
However, an old or worn out outlet could has loose contacts or are touching behind the strike plate.  A bad connection is dangerous because instead of tripping the circuit breaker it allows electrical current to flow.  When this happens the outlet can become so hot you can't touch it without burning yourself and can ultimately cause an 
electrical fire
.
WHAT IF MY OUTLET IS TOO HOT TO TOUCH?
In this scenario, the first thing you need to do is find the breaker that controls that circuit and turn it off.  This is where Haas and Sons Electric comes in.  When you call us, we will come out and check the connections on that circuit to be sure they are safe.  Sometimes they can be repaired and sometimes they may need to be replaced.  We will be able to tell you that after doing an inspection.  And we can usually fix the problem the same day.

7 Outdoor Lighting Mistakes » « Your Room Addition: How An Electrician Makes It Happen