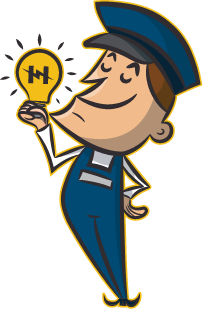 $100 Off

New Ceiling Fan Installation With Wiring
For a limited time only, enjoy $100 off your new ceiling fan installation with wiring. Haas & Sons' team of experienced electricians and installers will help you choose the perfect fan to suit your needs and preferences, and ensure it's installed safely and efficiently.
Nothing moves air around your home more quietly and efficiently than a ceiling fan. Whether you're creating a breeze and circulating the A/C in the summer, or moving that warm air from room to room in the winter - a ceiling fan can do the job without creating a floor obstacle or electrical cord hazard within your home.
Ceiling Fan Replacement near Pasadena, MD
If you already have a ceiling fan installed but you need it replaced or upgraded, our expert technicians can remove the old unit, assemble your new ceiling fan, and hang it with expert electrical know-how you can count on. Older homes may have odd wiring that doesn't match the new diagram, or the bracket might not be rated for a ceiling fan (even if it had one there already and it was installed incorrectly.) We're specialists in assessing any situation and giving you the best fix to ensure a safe and long-lasting installation.
New Ceiling Fan Installation Near You
If you're thinking about adding a ceiling fan to a room where no fixture existed or replacing a regular light fixture with a ceiling fan, we can help.  Our experts can run the wiring, install a bracket that's designed to hold the added weight of a ceiling fan, mount your new unit and get it working properly in an efficient matter - and we always clean up after ourselves!  
Cost of Ceiling Fan Installation or Replacement in Pasadena, MD
Costs can vary depending upon your home, wiring, location, and the type of fan you're adding to the room. A rough range for installation of a fan where no fixture existed and wiring needs to be run might start at $500.  If you're replacing an existing fan expect to pay in the neighborhood of $200-$300 to remove the old fan, ensure a new fan is safely assembled and installed, and everything is cleaned up and ready to run!
Licensed Electrician vs. DIY Ceiling Fan Installation in Pasadena, MD
Do-it-yourself ceiling fan installation has its risks. If your home is older or was not wired correctly by a past contractor or DIY homeowner, the installation of the new fan might not be as straightforward as you hoped. The wiring might be a little odd or need some adjustments to be safe.  It's also incredibly hard to install a ceiling fan solo if you don't have any tricks for bearing the weight while you wire and hang the fixture. Just assembling the fixture might take a novice DIY homeowner up to 3 hours, while a licensed electrician can be in and out, with the mess cleaned up in a much shorter amount of time.
Choosing a New Ceiling Fan
We prefer our clients pick and purchase the fan for installation - this ensures you get what you like, you have a receipt for possible future returns, and the unit is on-site when we're scheduled to come to install it.  We do caution against online shopping for off/unknown brand fans. Many are made overseas and are not wired or constructed to the exacting specifications required by code in the United States. If you do shop online, purchase a reputable brand like Emerson, Casablanca, or Hunter.  We actually recommend purchasing from a local store - this can make it easier to return your unit while it is still under warranty, should that be necessary.
Regardless of where you purchase your ceiling fan, ensure the box has not been opened and resealed. Many times fans are bought for one part, it's removed from the box, and the unit is returned sans the part they needed. The store may then just tape the box up and resell it without checking that all the parts are included. If you do buy something that has been opened - compare all the parts against the included schematic to make sure everything is there before your electrician arrives. This can save the time, cost, and hassle of a wasted service call.
One last tip for picking out your new ceiling fan. All name-brand fans will come with a guide on the box that indicates what size room the fan is suitable for. Pay attention to these numbers. A fan that is smaller, installed in a large room, will not move air correctly.  This could be frustrating in the long run. Make sure the fan you buy is suitable for the room where you're having it installed.
What Our Clients Have to Say On Google:
I have used the services of this company 3 times. 1.They installed exhaust fans in both bathrooms.
2. They connected my portable generator to my electrical panel box.
3. They installed a new ceiling fan and removed the old one.
I plan to call them for all my electrical work.

Ausar S.
⭐⭐⭐⭐⭐
See our 4.9 rating and read more of our 524+ reviews on Google.