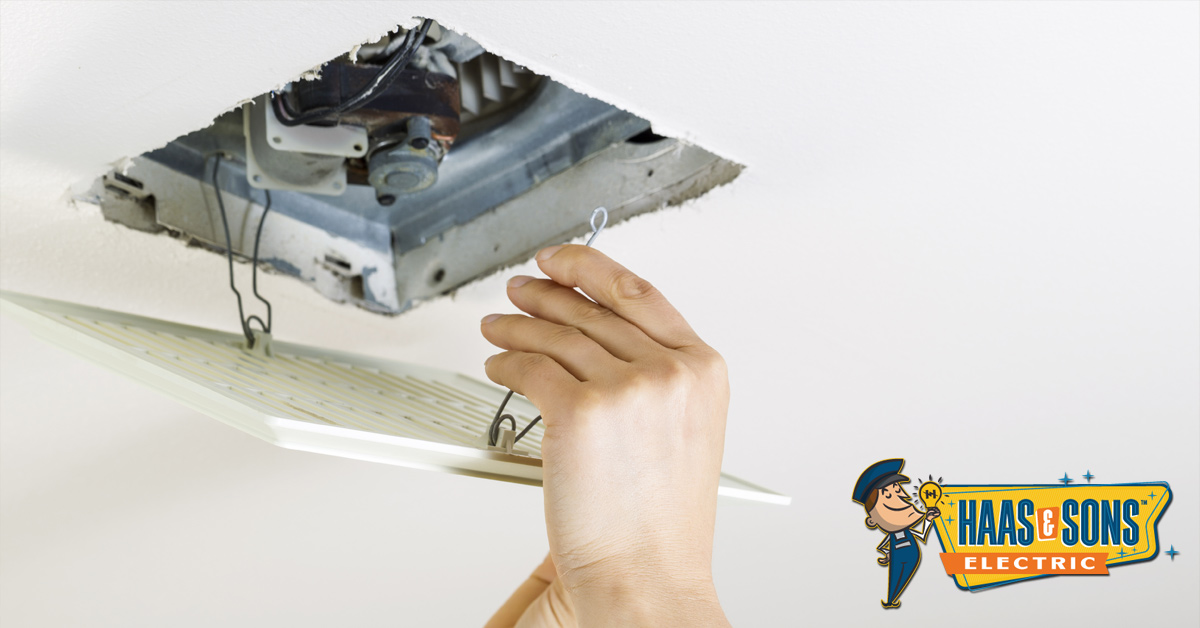 Did you know that your bathroom exhaust fan should be cleaned one to two times a year?  If not, don't worry, you are not alone.  Most people give little thought to their exhaust fan until it stops working.
Why You Should Care About Your Bathroom Exhaust Fan.
Most people thing of the exhaust fan as a way to pull the odors out of the bathroom but this is just part of the exhaust fan's job.  The more important part is that it pulls the steam and moisture out of the bathroom.  If you are not running it while showering you are missing the point of the fan altogether. Decreasing the moisture in the bathroom can help reduce the risk of mold and mildew and keep your home healthier for the long run.
Bathroom Exhaust Fan Maintenance
To increase the life of the bathroom exhaust fan you should clean it once to twice a year.  It's an easy enough job.  You simply pull the cover down and vacuum the inside of the unit to remove any dust and debris that has gathered.   
If you notice the fan has become noisy, no longer works, vibrated excessively it is time to have it serviced or replaced. 
All fans are not alike
Although you may look at a fan from an aesthetic viewpoint, wanting to get one that is bigger or smaller, one that is chrome or plastic, these may not be the most important considerations.  Fans vary for more important reasons.  The come in different qualities, loudness and air movement.  Knowing which one you need for the size of your bathroom is important.
The DC Motor Trend That Is Gaining Speed. 
The new wave of fans all us DC motors.  We like these fans because of their reliability.  According to research the new brushless DC motors outlast the older AC models by seventy percent.  This saves the homeowner money because they are not faced with replacing the model every few years.
But beyond the reliability we like that the new DC motors are less noisy and they use less power.    The DC motor has the lowest  sound rating of any fan on the market and uses 74% less power.
Does Your Fan Move Enough Air?
This is the part most homeowners don't look for when considering a fan.  It is important that you get the right size fan for the size of your bathroom.
Most homes have exhaust fans that are 50 CFM.  These are fine for your powder room but they don't move enough air in a full bath where there is a shower and or bathtub.
They come in different sizes.  The most common being 50, 80, 100/110. If you live in a neighborhood where all the houses have been built by the same contractor, chances are you have a 50 CFM fan.  We recommend at least an 80 CFM for most bathrooms but a 100/110 for a larger master bathroom.  This will help move the moisture out of the bathroom and reduce the risk of mold.
Bathroom Size

Minimum Ventilation (CFM) Required*

Less than 50 sq. feet

50 CFM

50-100 sq. feet

1 CFM per sqare foot of floor space

More than 100 sq. feet

Add the CFM requirement for each fixture:

Toilet 50 CFM

Shower 50 CFM

Bathtub 50 CFM

Jetted tub 100 CFM
More Buying Options:   
We recommend starting with the CFM rating.  But there are a lot more choices on the market these days.  You can get a fan with a light, which will help you having to cut more holes or add extra wiring for a separate light fixture.
You can get a humidity sensing bathroom exhaust fan which will sense when the shower is running.  It will suck the moisture out of the air and turn off when it is complete
A motion detecting fan is perfect for the kid's bathroom or even the guest bathroom that you seldom go in.  You can set it with a preset timer so that it turns off after a certain amount of time as well.
You can also go higher tech with a bluetooth enabled speaker so that it you can have music while showering.
And finally, you can get one with a built in heater.  There is no since in heating the bathroom all day long. But nobody wants to be cold when they come out of the shower.  A fan with a build in heater can suck the moisture out of the bathroom and blow warm air at the same time.
What's Next?
With the trend towards smart home devices we expect the smart bathroom exhaust fans to be on the market in the next couple of years.  The new fan may start warming the bathroom at a certain time or be able to answer to voice commands.  We aren't sure exactly what they will offer but there is little doubt that a smart fan is coming.
Although many homeowners will attempt to install a bathroom exhaust fan themselves, we recommend using an electrician to do this.  Not only will they make sure that it is installed correctly, they can make sure before installation that you have picked the correct fan for your bathrooms size and use.