Haas & Sons provides electrical services that include electrical repair and installations for businesses and residences near Severn, MD.  We have licensed electricians nearby and in some cases can offer next-day service to help you fix or install those new fixtures, improve outdoor lighting, add a dedicated circuit or install a new ceiling fan.  Our team of highly-trained and licensed electricians are dedicated to helping our customers across our territory.
On This Page: Update Circuit Panel, Add An Outlet, Add An Electric Car Charger, Replace A Light Fixture, Diagnose A Power Loss
Here are just a few services we offer to our clients near Severn, MD:
Update Circuit Breaker Panels
Severn is home to some older homes - and with old homes, comes old wiring. We can help you update an older circuit breaker panel to handle the load of modern appliances and electronics. If you find your breakers tripping a lot, or your appliances making odd fading in and out sounds when they're running - your wiring and circuit panel just may not be modern enough to handle the load. We're happy to consult and give you our expert advice on what updates will fix your problem.
Add An Outlet
Even the newest homes seem to be lacking at least one outlet. You'll find yourself thinking, "I wish I had a plug right here."  Good news, we can help you solve that problem.  From just adding one outlet to wiring a whole house or addition - we can get that job done for you - call for a free consultation.
Replace A Light Fixture
Is it time for an update? Maybe your fixtures are old and not keeping in line with your decor - or they might not be working at all!  Our team can come to replace those light fixtures and ensure your wiring in those areas is adequate to deal with the load. If you're not sure what fixtures work best - our team can give you some advice on the right brands and types of fixtures that work best with your placement, lighting needs, and wiring.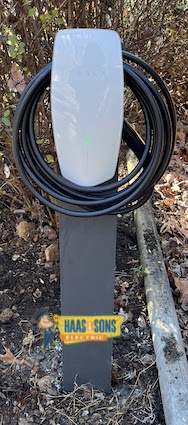 Add An Electric Car Charger
Cities, States, and the Federal government are now offering incentives to purchase electric vehicles.  While there are many commercial charging stations in Severn and the surrounding areas - having the ability to charge your car at home overnight is important.  Our team can install a convenient Level 2 electric car charger to help you achieve the goal of being dependent on fewer fossil fuels.
Diagnose A Power Loss or Flicker
If you're dealing with a room or portion of your home or business that has lost power - or has a light that flickers or fades in and out, we recommend having a local Severn, MD electrician come diagnose and fix the issue.  It could be a loose wire, a short, rodent, or other pest damage, or a fixture that is at the end of its life.  Whatever the problem, it's important to get it sorted as soon as possible - as there is always the potential for a fire when electricity is involved.
Install Dedicated Circuits in Severn, MD
A dedicated circuit is a separate electrical circuit that provides power to a specific device or appliance in a building. There are several reasons why someone might need a dedicated circuit, including safety, reliability, electrical code compliance, and improved performance.
Safety is a key factor for having a dedicated circuit, as it helps prevent overloading the electrical circuit and reduces the risk of circuit breaker trips or fires. Additionally, a dedicated circuit provides a separate power source for high-powered devices, ensuring that they have a consistent and reliable power source.
Electrical codes in some cases may require certain appliances or devices to have a dedicated circuit, especially for safety-critical devices such as smoke detectors or electrical panels. This helps to ensure that these devices receive a stable power source and function correctly in case of an emergency.
Bathroom Fans - New Installations & Repair
Bathroom fans are something many of us take for granted, but they are a crucial element in controlling humidity and moisture in your home. Many older homes have restrooms without a fan - we can install a new fan for you.  Newer homes may have a fan, but it's not working efficiently - or it's worn out and noisy.  Our relatively humid climate makes bathroom exhaust fans a must.
Install or Reinstall Ceiling Fans
On a humid summer day, still air is hot air - and the simple act of installing a ceiling fan in your room can help keep you cool on hot summer days, or help circulate your winter heating more efficiently.  We install a lot of ceiling fans in new builds and older homes - call us for more information.
Attic Fan Installation in Severn
We install attic fans to regulate the temperature, humidity, and ventilation in your attic. Attics can get extremely hot in the summer, which can cause damage to your roof, and insulation, and make your entire home warmer in general. By installing an attic fan, you can effectively cool down the temperature in your attic and prevent overheating, which can extend the life of your roof and make your home more comfortable.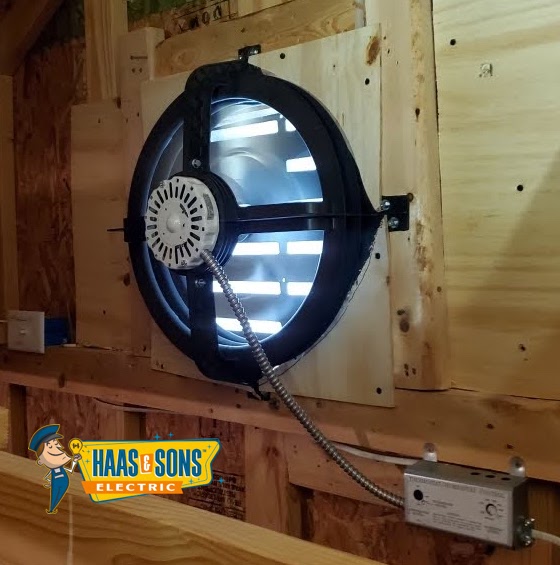 Additionally, good ventilation in the attic can help prevent moisture buildup due to the muggy days we can experience in Severn during June, July, and August. This can lead to mold and mildew growth. By exhausting hot air out of the attic and drawing in cooler air, an attic fan can help regulate the temperature and prevent moisture buildup, leading to a healthier and more energy-efficient home.
Call us now at (443) 396-2555 and see why your neighbors rely on us to deliver local electrical services at great value for a fair price in Severn, MD below.
How much does it cost to install an EV charger at my Severn MD home?
On average you can expect to pay between $900 - $2,500 to install an Electric Vehicle charger for your Severn MD home. The price will depend on:
Where you live
Which type of charging station you choose
If the charger is hardwired to your home or is portable
To learn more about EV chargers and their costs, contact the electric experts at Haas & Sons today!
What is the average cost to upgrade your electrical panel in my Severn MD home?
On average, upgrading the electrical panel for your home in or near Severn MD will cost between $2,000 - $5,000, most of the cost coming from labor. Heavy-ups, which involve enhancing your circuit panel to allow for greater electrical output, will increase the price. The final price will also depend on
The number of circuits involved
The amperage of the breaker
How long difficult of a job
Code requirements
Warranty
For more information or a more accurate price estimate, call on Haas & Sons today!
How much does it cost for an electrician to fix an outlet near Severn MD?
The cost of installing a new outlet will typically range between $185 - $300. Some things that could affect this price include:
Is there aluminum wiring?
Is the wiring burnt?
Is the wiring old and needs special precautions to be taken?
Does the homeowner need to upgrade to a different type of outlet?
What type of wall is the outlet going into (stud and drywall vs brick or concrete)
For a more accurate price estimate, feel free to call us at Haas & Sons. We are happy to consult with you on the price or process for any outlet service.
What A Happy Haas & Sons Client Says About Us on Google
Great service! Professional, explained everything and went the extra mile.
Chris M.
⭐⭐⭐⭐⭐
Local Reviews
for Severn, MD
Haas & Sons Electric Inc.
Rated
5.0
out of 5 stars based on
34
customer reviews
---
Exceptional Service, 2nd Visit and continued customer
Dee

-

Severn

,

MD

21144



Review of
Haas & Sons Electric Inc.
During the second visit, the service was again exceptional. The rep, Alan, arrived on time, discussed my requirements, coordinated the job estimate, and completed the job in a timely manner. I was very pleased with the results and look forward to being a repeat customer.
---
Very Knowledgeable Tech.
Roderick

-

Severn

,

MD

21144



Review of
Haas & Sons Electric Inc.
Extremely Expensive
---
Excellent Service
Wendy

-

Severn

,

MD

21144



Review of
Haas & Sons Electric Inc.
Michael Wendler is a true professional. He took his time to explain to me the process and when the work was completed walked me through and explained what he did. He went above and beyond. Excellent customer service and just overall a wonderful individual.
---
Great job
Donna

-

Severn

,

MD

21144



Review of
Haas & Sons Electric Inc.
Alan was very helpful and did a great job
---
Excellent Service.
Kai

-

Severn

,

MD

21144



Review of
Haas & Sons Electric Inc.
I scheduled an appointment with Haas Electric to check for a potential circuit breaker failure and the earliest appointment was a little over a week away. They had a cancellation and fit me in today. Alex arrived on time and provided courteous and professional service. Although the quotes were a little higher than I anticipated, he provided a few options. I normally get three quotes for any work around our home and will do the same here.
---
Very nice and professional service from Alan
Lee

-

Severn

,

MD

21144



Review of
Haas & Sons Electric Inc.
---
Exceptional Service - We will be repeat customers
Dee

-

Severn

,

MD

21144



Review of
Haas & Sons Electric Inc.
I'm a first-time customer and I was very impressed with the visit - professionalism, technical knowledge, detailed explanations, updates during various stages of the project, and clean-up. Furthermore, Alex was very personable so that added to the exceptional experience. We consider it an honor to support local small business and look forward to being repeat customers.
---
Excellent Service
Anne

-

Severn

,

MD

21144



Review of
Haas & Sons Electric Inc.
---
Excellent Service!
Timothy

-

Severn

,

MD

21144



Review of
Haas & Sons Electric Inc.
Our technician (Michael) was professional, courteous, and personable. He did excellent work, and we will definitely be using them again.
---
Excellent Service
Anna

-

Severn

,

MD

21144



Review of
Haas & Sons Electric Inc.
Can't say enough positive words about Matt M. He was timely, very knowledgeable about the job that needed to be done, took the time and patience to answer all our questions and was pleasant, polite and professional. We are very pleased with the work that he did for us. Would highly recommend him and Haas and Sons Electric, Inc. to all our friends and family.
---
December Work
Don

-

Severn

,

MD

21144



Review of
Haas & Sons Electric Inc.
We were having issues with our Kitchen overhead fluorescent light. Have had work performed through Haas and Sons by Mike with outstanding result sin the past, and today was no different. Mike showed up at the scheduled time, and after listening to the issue, performed an initial safety inspection and provided options. Once an option was chosen, Mike began the process of correcting the issue. The process took a little while, but was completed with outstanding results. Thanks!!
---
Friendly professional technician.
Alvin

-

Severn

,

MD

21144



Review of
Haas & Sons Electric Inc.
Quickly diagnosed and solved my problem. Super helpful and at a reasonable cost. My choice for any future electrical repairs.
---
Quick Response and Great Service
Kathleen

-

Severn

,

MD

21144



Review of
Haas & Sons Electric Inc.
Alex showed up quickly, discussed options and fixed the problem. I would definitely hire Haas again and request Alex!
---
Home electric work
Lee

-

Severn

,

MD

21144



Review of
Haas & Sons Electric Inc.
---
fantastic service
Ruben

-

Severn

,

MD

21144



Review of
Haas & Sons Electric Inc.
He was early, and did a great job