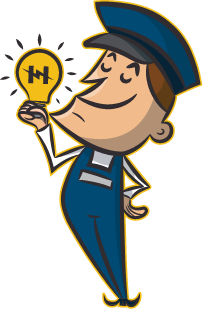 $100 Off

Circuit Breaker Box Replacement
Upgrade your home's electrical system and ensure safety with our circuit breaker box replacement service. And now, for a limited time only, take advantage of our special offer of $100 off!
If you own a home that is older than 30 years old, then it may be time for electrical panel replacement. Also known as a distribution board, circuit panels or electrical panels are the key component in providing electricity throughout your house. Due to its vital role in providing electrical flow, it's important to know when you need to update your electrical panel, or when you are in need of electrical panel repair.
What is a circuit breaker panel?
A circuit panel (officially known as a distribution board) is the most important component of your electrical system. The main distribution panel separates the power with circuit breakers into individual branch circuits which provide power to your home. This allows for one area of your home's electricity to "trip" if it's overloaded or if there is an electrical short circuit, without jeopardizing the other areas of your home.
What is an electrical heavy up?
Heavy up or panel upgrade
is when we upgrade the electrical panel to 200 amps. This is done most often when homeowners are
renovating older homes
with newer components or
adding an appliance
that requires too much for your existing system.
Common reasons for this step are:
Hot tub installation
Installing a heat pump
Home additions
Installing an EVSE (electric vehicle service equipment)
Do you need a permit to change your electrical panel?
Circuit Panel Service Costs
Typical replacements cost anywhere from $3000-4000, while heavy-ups can range from $5000 and up. If you're a homeowner, then you know how important it is to invest in long-term appliances; one of them, being circuit panels. Even if you're not due for a circuit panel heavy-up or upgrade, it's important to consider saving up for when the time comes. If you have any questions or concerns about the price of circuit panel services, or you want to learn more about your circuit panel, our professionals are readily available to answer any questions you may have at 443-396-2555!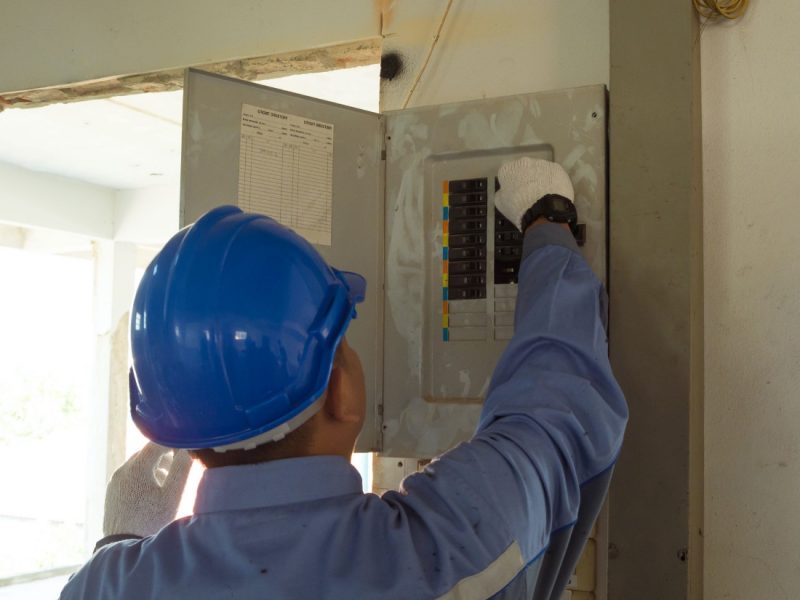 Electrical Panel – When Should I Replace my Electric Panel?

The electrical panel is the heart of your home's electrical system. The panel connects to the power lines and brings current to the circuits in your home. The panel also contains circuit breakers which prevent overloads. Lack of maintenance is one of the top reasons why these electrical panels require repairs. The homeowner might find an older system constantly in need of fixing, which can increase the cost to upgrade an electrical panel. They may have also been asked to replace the panel as part of a
home inspection
.
How Do I Know That I Need A New Electrical Panel?
Frequently news reports on catastrophic fires give electrical wiring problems as the cause. The National Fire Protection Agency estimates that electrical problems caused 144,000 house fires over a four-year period. Of course, you don't want that to happen to your home. Some of the warning signals might be dimming lights, discolored power outlets, burning odor, or minor electric shocks. If the electrical system in your home is still using fuses, it's time to move up to circuit breakers. Fuses are outdated and may pose a safety hazard.
How Much Does It Cost to Replace an Electrical Panel in Maryland?
Replacing a 100 amp electrical panel normally runs $2500-3500 while a 200 amp runs $3000-4000. To upgrade to 200 amps expect to invest $5000 to start while we have had some clients invest upwards of $10,000 for the top of the line and all the addons. This is due to all the parts of the electrical system that will need to be installed to meet the code requirements for the 200 amps. The add-ons most of our clients spring for are generator hookups, whole-home surge protection, a better quality electrical panel, and installation of AFCI (arc fault circuit interrupter) breakers to make the home safer.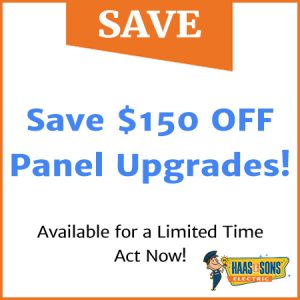 When Should I Replace my Electrical Panel?
You should consider replacing your electrical panel if:
It's over 30 years old
You're adding large appliances
You have a panel that isn't safe
It's showing signs of rust/corrosion
Electrical safety standards are constantly being updated to provide safe, clean, and efficient power to your home. As the electrical system ages, parts can deteriorate not only in performance, but in physical condition. We have seen circuit breakers not trip when they are supposed to while others may trip frequently. A good time to consider replacing your panel is if you plan on adding on to your home, or need more power for a larger appliance. The most common items that can trigger this are electrical vehicle charges, computer servers, hot tubs, electric heat pumps, tankless water heaters, and electric stoves. Maybe you want to finish your basement and turn it into an apartment or in-suite. These typically will increase your power needs.
When to Update Your Circuit Panel or Get an Electrical Panel Replacement
The first step in analyzing your circuit panel's health is to call a professional, such as Haas and Sons, so we can perform an inspection to determine if it's due for updating. An inspection of your Pasadena-area home or business will allow us to identify problem areas in your circuit panel, which will tell us if you need small improvements or a full remodel.
Other occurrences that often require a circuit panel upgrade or electrical panel replacement include:
When you are selling your home

When you are remodeling or adding rooms

If your power is constantly flickering
If you relate to any of these circumstances, call our professionals today for quality inspections in a timely manner and affordable cost. 
Can I Replace my Own Electrical Panel?
We do not recommend replacing your own panel. Bluntly speaking, electricity is dangerous and poses a serious life threatening hazard. You could hurt yourself as you work on your panel, or hurt a family member if something is hooked up incorrectly. We strongly suggest hiring a professional electrician. A quality electrician would be trained to ensure the job is done right and that the project results in a safer home for you and your family. Even hiring an unlicensed handyman can be dangerous. Plumbing and electrical projects are not things that should be left in the hands of someone unskilled or uncertified.
Heavy-Up Electrical Panel Upgrade
One option for upgrading your circuit panel is to call our team of professionals to perform an electrical heavy-up. What this means is that we will enhance your circuit panel to 200 amps, which will allow for greater electrical output. 
Heavy-ups are common among customers who are having hot tubs, heat pumps, and home additions installed. Essentially, any home addition that requires a significant amount of power is enough reason to consider an electrical heavy-up.  You might need this if you run a business from your Pasadena area home as well.  
Let Our Certified Electricians Help You Decide
The first thing on the list for a certified electrical technician would be to examine the current system. Technicians frequently provide a free initial inspection. In many older homes our electrician will find an older panel providing 60 amps of power, or perhaps a standard breaker-type panel at 100 amps. Today, 200-amp panels are recommended. These panels allow for future upgrades and are better when you resell the house.
Water Damage: A Sure Sign Of Trouble
If there has been a water leak anywhere near your panel, call a professional immediately. Leaks can be dangerous and need to be fixed right away. A less obvious sign of a water problem is when you see rust stains on the panel cover or a chalky white corrosion on wiring and other metal parts.
Give Your Electrical Box A Regular Check Up
You've heard "If it ain't broke, don't fix it." How about a new phrase?: "If it ain't broke, still check it." The Federal Pacific Stab-Lok, Zinzco, and Challenger B series all have had their safety rating revoked and responsible for approximately 2000 house fires per year. These were installed from the 1960s through the 1990s. If you're not sure what you have and want us to check, please email us at info@haasandsons.com and we will help verify what brand you have. With an estimated 28 million of these panels still in use, you may have one. Inferior brands that don't hold up well over time are GE, Bryant, Murry, Westinghouse, Bulldog / ITE Pushmatic, and Wadsworth. Wadsworth and the ITE Pushmatic have been out of business since the 1980s and incredibly hard to get parts for. Some might say, "I've lived in this house for years and haven't had a problem." If you find yourself in this situation, you're a fortunate person. One of the main purposes of a circuit breaker is to shut down a line when it is overloaded and prevent a fire. Too often Stab-Lok breakers fail to shut down the circuit. A visual test will not determine if you have a problem. Once again, this task is best carried out by a certified technician. The Stab-Lok panels and circuit breakers are labeled. If you see this on your panel, have it checked out.
What are Good Panels to Buy?
The two best panels currently are the Square D QO series and the Cutler-Hammer CH series. Siemens also makes a decent panel but is used much less across the industry. Leviton has recently released a new type of panel that has wifi capabilities among other really neat features. Both Cutler-Hammer (BR series) and Square D (Homeline) make a residential series which we do not recommend, because of the inferior quality and materials used. The industry leaders being the QO and Ch series both utilized solid copper bus bars (the parts that breakers connect to and flow electricity) which are often plated to protect the copper from corroding over time.
Getting A New Panel
Think about all the electronics in your home. From the flat-screen TV, to kids' games, to sensitive financial and work-related data stored on your computers. Do you want to risk losing that to an aging, or malfunctioning breaker box? Probably not. Of course, any new installations must conform to the local electrical code. Your Maryland-certified electrician will make sure you are equipped with an electrical panel that will have you worry free for years to come. An electrical inspection may not be required when you are rehabbing a kitchen or converting your basement into more living space. Still, an inspection of the electrical panel makes sense. Find out about potential problems before they become a nightmare.
Contact An Electrical Panel Upgrade Professional Near You!
If you have a panel over 25 years old you should look into getting a replacement. You should also consider replacing your panel if you're experiencing problems with yours, have an FPE, Zinzo, or Challenger B series. It doesn't hurt to have a professional out to evaluate your electrical system to see what options you have to not only make your home safe but ready for those future projects. Square D QO and Cutler-Hammer CH are the best and longest-standing models on the market that you want in your home. We would be more than happy to help you evaluate your electrical system and give an electrical panel upgrade price. Call us today! Call a
local electrician near you
today at
443-396-3797
for heavy-up estimates, appointments, and more!
What A Happy Client Says About Haas and Sons on Google
"Nick was great! Could not have provided better service. Installed a manual transfer switch and did a walk through with the generator." Ethan G ⭐⭐⭐⭐⭐
We're proud of our 4.9 rating across 524+ reviews on
Google