I lost power in part of my house!
Power can go out in one or more rooms of your house for various reasons. Most commonly, the circuit breaker has been overloaded and tripped off. The circuit breakers are typically found in the breaker panel box that is often located in the garage, basement, or utility room. The second most common reason is there is a GFCI (ground fault circuit interrupter) that has tripped off. It can be trickier to locate where the builder put this as there is not a central location required by code. GFCIs can often be found in the kitchen, bathrooms, utility rooms, garage, and basements. 
On This Page: Partial Power Outage, Dead Outlets, Why is Power Loss Dangerous?, How Do I Get My Outlets Working Again.
Are dead outlets dangerous?
Yes, they can be. If nothing tripped off and there is still an issue that is causing arcing or overheating it could be dangerous.  Wires could have been damaged or connected incorrectly after a repair, or rodents could have chewed wires in the walls or under your home. 
Though if a breaker or GFCI tripped off then we can be sure the power has been turned off and won't cause any further issues or damage.
Once you notice a power loss in one of your rooms it is always recommended to walk around each room and use your hand to feel every outlet and switch for overheating. It is common for a connection to become loose and overheat in outlets or switches. If you do feel an outlet that is HOT to the touch, turn the breaker off for that room and call a local electrician near you (that's us!) immediately at 443-296-2555 so we can get it repaired before it becomes a bigger issue. If you find one that is actively smoking you may want to turn the power off and call the fire department if it doesn't stop in 30 seconds. 
Why can it be dangerous when part of the power goes out?
In some cases, a wiring connection has gone bad by coming loose, corroding, getting wet, or being damaged. This can cause arcing or overheating, which then can lead to a fire. Luckily in most instances, your home's electrical system will turn the power off when there's an issue and the new Arc Fault Circuit breakers are specifically designed to sense bad arching and turn the power off.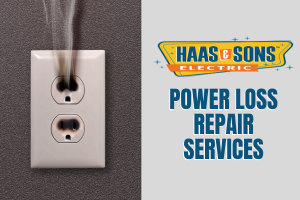 How do I get my outlets working again?
You'll have to locate your breaker box and GFCI locations to see if any of them tripped off.
Resetting circuit breakers isn't a hard task and nearly all homeowners can do this on their own. To reset a circuit breaker, you first need to push the breaker lever all the way to the off position until you feel or hear it click. After it's pushed in the off position which is always away from the center, you then push the breaker lever towards the center of the panel and you will hear/ feel it click. 
Resetting a GFCI is a matter of pressing the Reset button that's typically in the middle of the GFCI outlet. A GFCI has two buttons on the front of it- a Test and a Reset. Pressing the Test button will cause it to trip off and you'll need to press the reset button to restore power. 
If you have a GFCI breaker, then you push the lever to the off position (away from the center of the panel) and it will click. Then push back to the on position (center of the panel). 
What happens if the power doesn't come back on after I reset the GFCI? Typically that indicates there is something wrong with the electrical system and it's time to call us at 443-396-2555 to have one of our certified electricians come out. We will have to do diagnostics on the home's electrical system to determine if there is a faulty component or possibly a wire short. We come out in well-stocked trucks so we are sure to be able to repair anything we find.