Whole House Surge Protection in Pasadena, MD
Does My Pasadena MD Home need Surge Protection?
Yes.  That's a short answer for a more complicated situation. To be honest, if your Pasadena-area home has expensive appliances, computers, gaming systems, and/or tools and other equipment - an unprotected surge in electricity can cause a multi-thousand dollar mess that can take time and hassle to remedy. Insurance companies will potentially pay on surge claims, but it's something that can take time and effort to clear up. Why not take a small measure of precaution before you need to take extensive clean-up measures?
What is an electrical surge?
A "surge" happens when the power to an appliance or outlet (or your whole house) goes above 120 volts.  Most appliances are rated to go to 130 volts safely, but anything over that can damage the circuit boards and electrical components within the appliance.
All appliances have a small measure of built-in surge protection, but repeated surges can wear this out - and your appliance becomes more vulnerable.  A whole-house surge protector can help your appliances with additional layers of protection.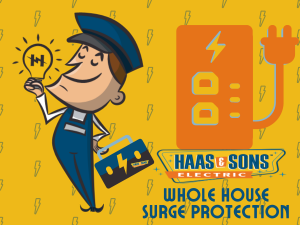 Remember, a surge in electricity can come from inside or outside the home.  Have you ever noticed when your A/C kicks on and the lights in the house dim for a second? That's a surge caused by an appliance in your home demanding more energy through your electrical panel.  This is more likely to happen with older appliances and heating or air conditioning units.
There was a story that circulated a few years ago from ThisOldHouse.com about a contractor whose clients had decided to cut costs and eliminate their whole-house surge protection from the build.  A short time after the home was finished and the homeowners moved in, the electrician received a call stating that a pole had been struck by lighting and that nothing in the house would work, now.  The casualty? The motherboard in their SubZero refrigerator, roasted the temperature controls in the matching double oven, among other damages.  The loss amounted to $11,000+ to replace or fix.  That whole house surge protector is probably looking pretty necessary now, right?
How Effective Are Whole House Surge Protectors in Pasadena, MD
Even with a whole house surge protector on the job, some power may get through.  Their job is to take any excess power and diver it to the ground wire - effectively neutralizing it. They're not foolproof, but they can mitigate widespread damage from an in-home or outside power surge - or repeated power surges that can wear down an appliance or electronic equipment's built-in surge protection.
What Type of Surge Protector Should I Get?
That's a discussion to have with your electrician. They'll want to know what appliances and electronics you have, how frequently you experience surges or power outages and electrical storms, and the location and difficulty of installation.  Here are a few tips from our Pasadena, MD based electricians to help you make those decisions:
Not all units are equal

Don't confuse an outlet-point surge protector with a power strip. Actual surge protectors at the outlet are large bulky units. A whole-house surge protection unit is more useful to ALL of your appliances & electronics. You can create an extra layer of protection by utilizing a whole-house surge protector along with an individual surge protection unit for your high-dollar appliances and electronics.

A good whole house surge protector is wired into your circuit panel, not something you plug into. This provides protection from the circuit breaker - and doesn't rely on something plugged in to do the job. Also eliminates unsightly and bulky surge protection units under TVs or behind refrigerators.

A whole-house surge protector should have lights or alarms to indicate when they've taken a hit so you're aware.  There is a lifespan, so knowing when your unit has operated can help you keep track of how many times your home is impacted by a power surge.
Can lighting that strikes a home or pole near MY Pasadena, MD home impact my own electrical system?
In a word, Yes.  Lighting could strike a pole nearby and send a surge through your unprotected home, frying the motherboard in your refrigerator, blowing out your TV and computers - in just seconds, you'll have incurred thousands of dollars in damage, without any direct impact to your home.
What if I plug all of my things into plug-in surge protector strips?
You can do this, but you're likely not going to block enough power if there's a significant surge, and these strips can get expensive and inconvenient.  We actually recommend using whole house surge protection backed up with plug-level surge protectors for your valuable electronics like TVs, computers, gaming consoles, large appliances, etc.
How much modification to my electrical system do I need?
The electrician can install the surge protection right at your circuit box - so there's minimal disruption throughout the house.  They'll turn off the power, wire it into the service panel, and turn the power back on - then they'll test around the house to make sure everything is working properly.
What Does a whole house surge protector cost?
The cost is dependent upon the unit you buy, but they run from $500 to $1,000 - with a few hours of your electrician's time to connect the surge protector.  This is still less than replacing even one costly refrigerator or computer after a surge has ruined them. 
What Our Happy Clients Say About Us On Google
Rick Haas showed up at 8:10 a.m. (the appointment said 8-9 a.m.), introduced himself and explained what he was about to do. In less than 30 minutes, he was done installing the whole-home surge protection unit.
Mario C
⭐⭐⭐⭐⭐