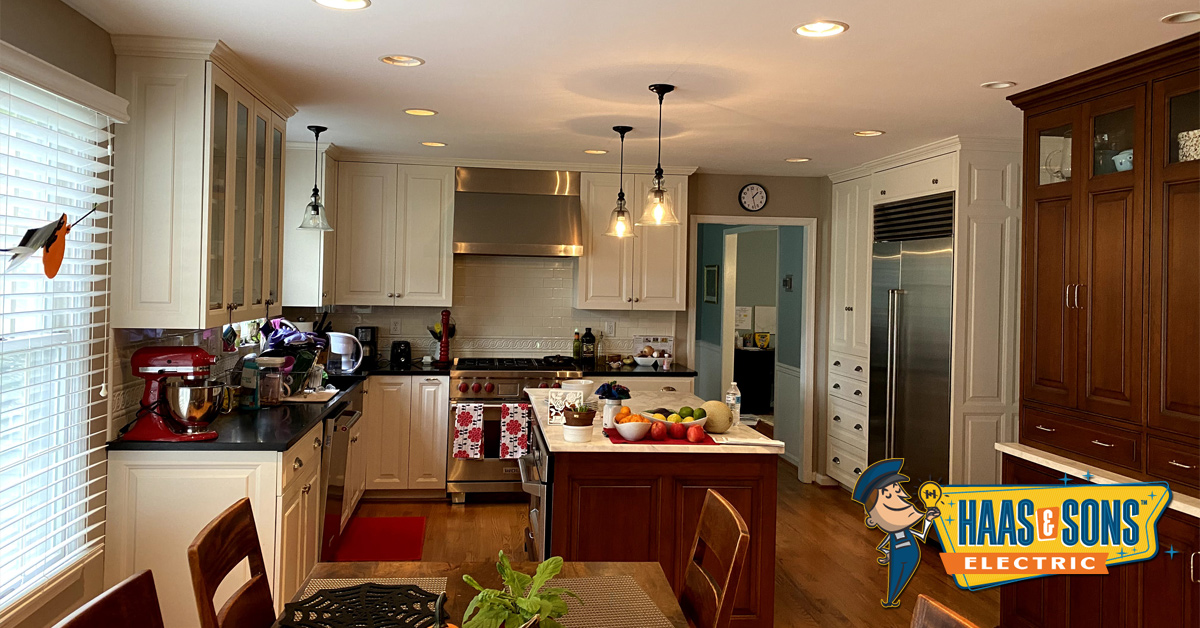 Whether you're renovating an older property or building your new dream home, interior lighting decisions play an important role in your design strategy. Unfortunately, many people don't recognize the impact that proper lighting can have on a room; so they just go with whatever is installed, what they are accustomed to, or what's easiest (think inexpensive floor lamps that kind of lean crooked).
That approach is leaving a lot of potential on the table, as proper lighting can add a refined ambiance and functionality to a home in no time. At Haas & Sons, we regularly get called to our customers' homes to help them with lighting situations, and many times the solution is adding recessed lighting, or replacing an old fluorescent kitchen light with recessed lighting. Here we'll discuss a variety of factors that homeowners should consider when it comes to recessed lighting.
Recessed Lighting Guide:
When it comes to lighting the interior of a home, the styles of your fixtures and the technology used are largely based on what's available at the time of home construction. As we all know, technology in all sectors has long been outpacing usage patterns and it's no different in the 'World of Lighting'. Because of this, most of us live in homes that have outdated lighting options compared to what's available today.
Common fixtures that we're asked to replace include fluorescent lightboxes on the ceiling, outdated wall sconces, or basic single ceiling lights. The problem with these fixtures is that they're often poorly placed without a lot of (or any) customization, so the homeowner is left without light where they need it most.
That's where recessed lighting comes into play, as it's a great option for installing light where it's needed, while not adding more bulky hardware to your room.
Installing recessed lighting can be a pretty difficult job, as it involves cutting holes, routing or connecting electricity, and installing the hardware. Due to the likelihood of potential error, we often recommend that customers call an electrician for lighting installations, but if you want to try it on your own, please do your homework.
Below we've created a quick video to show you how to assess whether you can install recessed lighting in your ceiling:
How Do I Choose Recessed Lighting?
Most people are familiar with standard recessed lighting, which is where you have an incandescent light bulb contained within the can of the recessed housing. These mount flush with your ceiling showing a little piece of trim surrounding the light bulb for a proper finishing touch. These are non-directional lights, but are often grouped together with others to form an improved and more well-lit environment.
Below is an example from a customer's home where they asked us to remove their existing fluorescent light box (you can see the remnants as we hadn't painted yet) in lieu of recessed lighting to distribute light more evenly in the kitchen: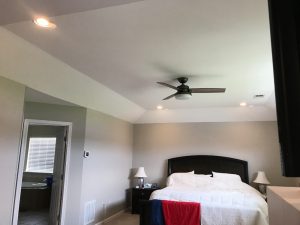 The second type of option is adjustable recessed lighting (professionally known as gimbal trim or gimbal lights), which is very similar to standard recessed lighting, but these fixtures include a range of motion that their predecessors should be jealous of! Directional lighting is made possible by trim and housing that has gimbal features.
If you're renovating a room in your home that has the potential to switch floorplans in the future or you're wanting to highlight a certain design element in the room, directional recessed lighting is the way to go. Here's an example from a customer's home where we added directional recessed lighting to add overall light to the room, while also showcasing their lovely art collection:
As you can see, both options provide more light for the rooms, but they present different tones. That's the beauty of lighting, as a person's home can look completely different after some small changes. Here's one last example with a side by side comparison of a gameroom's transformation. Notice the new recessed lighting offer consistent and bright light throughout the billiards room, as opposed to the former fluorescent light boxes: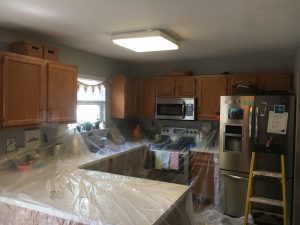 What is Recessed LED Lighting?
Light-emitting diode (LED) lights have gained popularity over the last decade and have finally become mainstream after proving to be the superior lighting source for many uses.
Compared to traditional incandescent light bulbs, which have a delicate filament and shorter life-cycle, LED lights are more energy efficient, environmentally conscious, and outperform all other options. In theory, a LED light can last decades, although they usually last 50,000 hours with a good manufacturer. While there might be some upfront expenses to ready your home for LED lights, the long-term gains will quickly appear.
Retrofit LED Recessed Lighting Kits:
If you'd like to switch your home over to LED lights, but don't want to change your hardware, you're in luck because there are LED light kits for sale that retrofitting your space. These kits allow you to insert an LED bulb into the original housing of an incandescent base by utilizing the screw in base to power the unit. 
Wafer LED Recessed Lighting Kits:
Wafer LED lights are probably my favorite lighting choice to date because they can practically be installed anywhere. The biggest design feature of wafer lights is their...well, wafer thin composition.
Wafer lights on average only require 2 inches of clearance to be installed, which makes them ideal for remodels of any kind, lighting under cabinets, in low-clearance basements, and any room looking for low impact lighting solutions. They have the exact same longevity as other LED light options, just in an ultrathin package.
How to Choose the Best LED Lighting:
There's a saying that I believe in, "Buy cheap, buy twice" and that applies to LED lights as well. Don't try to save a buck per bulb by going with some cheap supplier who doesn't have much of a reputation, instead stick with the name brands.
At Haas & Sons, we recommend Philips, SYLVANIA, GE, Cree, Lithonia Lighting®, and SATCO as trusted manufacturers who stand behind and consistently produce quality products that are backed by a warranty. Unfortunately, there are a lot more factors to consider than brand name, as LED lights have a lot of variety that can have a big impact.
Types of LED Lighting:
Quite similarly to buying a diamond, LED lighting offers choices with regards to color, light emission, and intensity. To begin, you have to choose whether you want cool or warm lighting. Cooler lighting is often noticeable for its bluish hue and warm lighting often has a yellowish glow.
Traditional incandescent light bulbs are warm, as they are most often yellow in presentation, whereas LEDs tend to be cooler. This difference is measured in Kelvin temperature, which I've broken down below:
2000-3000 Kelvin: Best for bedrooms and intimate living spaces. Warm color.

3000-4500 Kelvin: Best for workspaces and kitchens. Sharp cool color.

4500+ Kelvin: Best for commercial use. Very intense light, which is too much for homes.
In addition to Kelvin temperature, you should consider the Color Rendering Index (CRI), which grades LED light clarity. The CRI operates on a 1 to 100 scale as seen below:
70 or less: The best way to explain this is like watching an old VHS tape that's been used and abused over the years. It's visible, but it's not crisp. You don't see too many light bulbs with a low CRI, but it's worth mentioning.

80-90: This is like cable TV where you have clarity and precision. There are a lot of lights that are in this range.

90+: Having a CRI of 90+ is like HDTV. Everything is as crisp and alert as possible.
Lastly, but certainly not last, LED lights have different lumens. Lumens are a way to measure the visible light a source produces and is a good way to relate contemporary LED brightness to traditional incandescent light bulbs. Here's a quick rundown on the lumens to watt breakdown, but
I should note it's not an exact science, so these are ballpark figures:
375 lumen LED = 25 watt incandescent light bulb

600 lumen LED = 40 watt incandescent light bulb

900 lumen LED = 60 watt incandescent light bulb

1125 lumen LED = 75 watt incandescent light bulb

1600 lumen LED = 100 watt incandescent light bulb
Now that I've educated you with the specifications, let's look at it in practice. I was able to find a perfect example of the Kelvin scale from LedsMaster.com
You can see how much variety is available with LED lighting and how some of these changes can really impact not only the ambiance of your home, but the functionality of each room.
Final Tips to Consider
Last but certainly not least, we wanted to share a safety tip and an energy-efficiency tip for your consideration. The two main things you want to be aware of are whether your fixtures are insulation compatible (IC) and if they're airtight.
Having insulation compatible recessed lighting fixtures means that the housing of the unit can be installed in direct contact with insulation in your home's ceilings or attic. This is particularly useful in remodeling applications where you might be trying to insert recessed lighting into a space that didn't originally have it.
If you don't get fixtures that are IC, you will either have to build or buy additional covers to keep the insulation from coming into contact with the light and housing.
The other factor is making sure the fixture is airtight. If you were to install a non-airtight fixture into your ceiling, it can act as a chimney of sorts and allow for heated air to escape into the attic.
While this doesn't pose a safety risk as compared to insulation compatibility, it does waste your money and leads to poor energy efficiency. This is less of a noticeable issue if you're lights are being installed underneath a living space, but if you're lights are being installed below a unfinished attic, getting airtight fixtures is a must.
Fortunately for you and I, most of the brands and styles of lights that we recommend above come airtight and IC-rated as standard features.