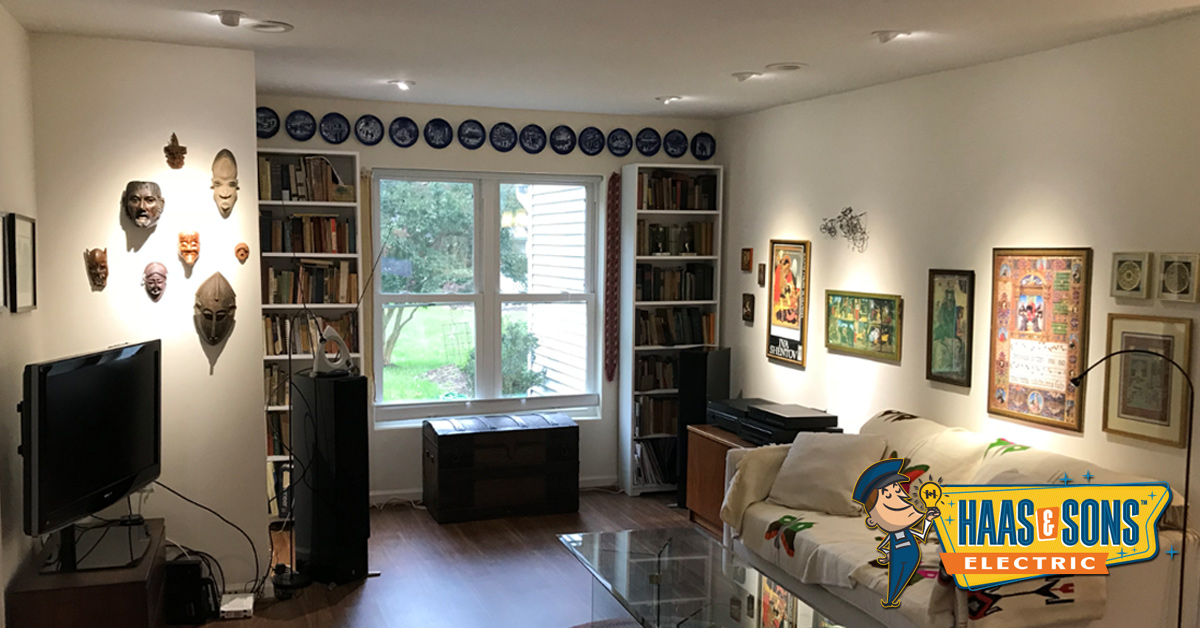 You probably don't need anyone to tell you that your lighting is out of date. Similar to that colored tile in your bathroom, old wood paneling, or those gold-colored faucets everywhere, older lighting fixtures can make your house look old and worn.  Consider updating your lighting fixtures and giving your whole home a facelift!  Here are the most common questions people have about updating their lighting.
Frequently Asked Questions
What are the three types of lighting you should layer in your home?
Ambient, Accent, and Task lighting should be layered throughout your home. 
How do you update lights in your house?
Replacing the light fixtures with new ones, or adding more light fixtures to your home is the best way.
What is the best lighting for a house?
Recessed lighting is the most versatile lighting in a home as it can be used for many different purposes.
Does lighting have to match throughout the house?
No, your lighting does not have to match at all.  You just want to keep fixtures a minimum of six to seven feet apart.
What lighting is closest to sunlight? 
Choose lights in the 5000 Kelvin range. They have a  slightly blue color and help those with SAD (seasonal affective disorder) and degenerative eye disease.
Can lighting increase your home value?
It certainly can!  Layering light in your home shows it off and brightens every room.
Today's Specials
The Three Basic Types of Lighting 
Today, we're going to take a look at different types of lighting and lighting fixtures that can improve your home's function and give your entire house a warm, cozy glow!  Using the right kind of lighting can affect the way you and your guests feel in the space.  You know you've got the right mix of lighting when you have created a comfortable space that is easy to work or relax in. Here are the basics.
What is Ambient or General Lighting?
Ambient lighting sets the tone for the room.  It's necessary to include ambient lighting in your lighting plan to get an overall glow. This type of lighting is usually created using your overhead fixtures, including pot lights or track lights.  You'll also get ambient lighting from floor and table lamps. If you need to add warmth to the room, go with LED bulbs that give off a warmer color. General lighting is when you install your lighting to illuminate the entire room vs. accent or task lighting. 
What is Accent Lighting?
When you want to create a focal point, accent lighting does the trick!  It complements the ambient lighting you have in the room and emphasizes pieces you want to highlight, such as a plant, artwork, or even a design element about which you are incredibly excited.
Using light to draw the eye to a focal point can be effective but takes some planning.  Your accent lighting should shed at least three times as much light to the piece you want to highlight as you have in the rest of the room. The viewer should notice the attraction, but not the lighting if you've done your work well. 
You can rely on track lighting, recessed lighting, or sconces and picture lights… all of which can be angled to highlight your treasures. You should always use LED lights when lighting your artwork.  They do the job without emitting UV light, and they give off a very minimal heat, which helps prevent your artwork from being damaged.
What is Task Lighting?
This type of localized lighting can come from different sources, but the object is the same… to provide light to do a specific task or activity.  Ideally, you'll be able to adjust the amount of light you need, depending on what type of project you may be doing. For example, reading will require a different sort of light than cooking or studying. Selecting the proper task lighting can be tricky.
You'll want to consider several factors when choosing task lighting for your home. Is the person using the light older and requiring more light to do close work?  Are they sensitive to glare? All things considered, the ideal task light will provide anywhere from 269 to 1075 lumens (40-100 watts).
What Do We Mean By Layering Lighting?
Most interior designers will recommend that you have all three types of lighting in your rooms. If your rooms are not that large, you're probably overwhelmed at the thought of that. There are ways to work around smaller spaces. Using lower-wattage bulbs or smaller fixtures can allow you to create the effect you want by layering.
Different Types of Lighting Fixtures
While you're designing the lighting updates in your home, take advantage of some of the newer trends in lighting.  Changing your lighting fixtures will give your home a whole new look!  You'll want to consider working these fixtures into the plan.
What is Recessed Lighting?
Recessed lighting goes by a few different names. You may know it as can lights, pot lights, or downlights. Typically, they are flush with the ceiling and light up the room without bulky fixtures. They provide a fresh, modern look. These lights are the best bet for general or ambient lighting.
Today's Track Lighting
When you hear the words "track lighting," you may be thinking about the bulky lights of yesteryear.  Today's track lighting has been updated with sleek, stylish lights that are efficient and fashionable. Check out the new and improved track lighting of today. Depending on how you use them, track lights can provide ambient lighting, accent lighting, or task lighting.  Because they are so versatile, it's worth taking them under consideration. 
Are Chandeliers Still Popular?
Chandeliers have come a long way since Grandma's dining table.  There are a wide variety of chandeliers on the market. They vary from a minimalist Scandinavian look to an arts and crafts or coastal feel and may even be ornate and colorful.  The secret to using chandeliers in your dining room?  Make sure they are 30 inches over the dining table for the best effect. Chandeliers are guaranteed to provide beautiful ambient lighting.
Floor and Table Lamps
These stand-alone light fixtures serve two purposes.  They typically have an intrinsic beauty and are decorative in their own right. These lamps add color and character to the room. They also tend to give off a beautiful ambient or general light.
Pendant Lighting for Fresh Look 
Today's pendant lighting gives a fresh, modern look to your home and is very popular in the kitchen.  You can find pendant lights with multiple lights in them, individual pendant lights, and mini pendant lights.  This task lighting is popular over kitchen islands especially, where they help you have excellent visibility as you prepare food for family and friends.
Tips and Tricks to Update Your Lighting
We've put together this list of things you can do to give the lighting in your home a fresh look.  Some of them are little things you can do to complement your existing lighting.

Add under-cabinet lights in the kitchen… or even in your workroom.  These serve as task lighting and makes any job more comfortable to see!  

If you've got dark corners, add metal can uplights.  Available in a variety of styles… they just need to be plugged in.  Just be careful to hide the fixture so that only the light shows.

Consider adding light fixtures and lamps to your bookshelves.  Doing this will add interest to the bookcase and highlight the books, which will be easier to find.

Small decorative lamps work well in the bathroom or kitchen, especially in a corner. Just make sure they aren't near water!  These add character to the room with a warm glow.

Dimmer switches can help you control the intensity of light in your home. Consider installing them on as many light fixtures and lamps as you can! You'll save energy and be able to set the mood… all with your lighting!

Another great strategy with dimmer switches is to add them to the wall switch when you first enter the room. Having them there will enable you to adjust the lighting from the entrance to the room.

If you have a dark hallway or set of stairs that feel a little creepy, add a motion sensor to the lighting, so it turns on as you enter… you don't have to fight the fear anymore!

When it comes to lighting artwork, you can add many small fixture styles above your art by attaching them to the frame.  These are available at most home improvement stores.

Get rid of your boring ceiling fixtures and replace them with recessed lighting! You'll need to call in a licensed electrician, but it will be worth it, and you'll be delighted with the results.

Install motion-sensor lights outside your home so that the lights will come on when people come near your home.

Install reading lights or sconces on the wall beside your bed.  You'll enjoy reading so much more!

On your ceiling fan, a dimmer switch can control your light and your fan!

Keep it clean!  Remember to dust your light bulbs frequently to keep them clean.

Don't forget to combine different types of light in your room to add interest and lighting possibilities.
Lighting for Good Health
To help develop your healthy circadian rhythm and relieve symptoms of SAD (seasonal affective disorder), consider using light therapy.  You should consider lamps with a 5000K+ color temperature. You want your lamp to put out a white color light… one that resembles the sun at noon. Look for a brightness intensity of 10,000 Lux, and make sure it offers optimum UV filters. UV rays can damage your eyes.
Need Help Updating your Lighting?
At Haas & Sons Electric, we help people to update their lighting and light fixtures every day.  If we can send an electrician out to your home to give you an estimate on a lighting makeover, let us know!  The investment you make now in updating your lighting will increase your home's value and will make the house cozy and well-lit for the next tenant or buyer.  
Contact us today, and learn how Haas & Sons can help with lighting your life!