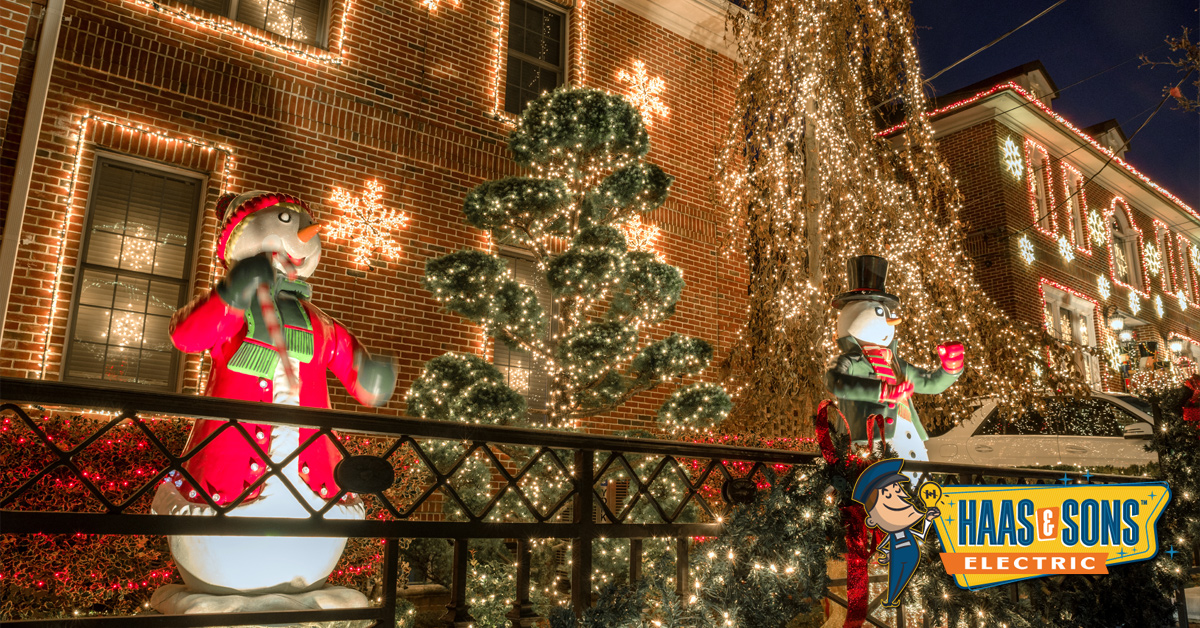 When it comes to decorating a house, Chevy Chase's character in National Lampoon's Christmas Vacation was the champion of ignoring holiday lighting hazards. He is a great example of what not to do.
On this page:
You might be just bubbling over with the holiday spirit, so you decide to load up the outside of your house with as many lights as you can pack on. Maybe your holiday spirit has morphed into, "I'm going to win that neighborhood holiday decorating contest or else."
Ladder Safety To Avoid Accidents While Hanging Christmas Lights Near Pasadena MD
Once your competitive juices have cooled to a simmer, do some planning and don't ignore a basic holiday lighting hazard. If you are climbing on your roof or into your trees, make sure you have a strong ladder that is placed on solid footing. Once your ladder starts sliding, a fall is almost inevitable usually followed by a trip to the emergency room.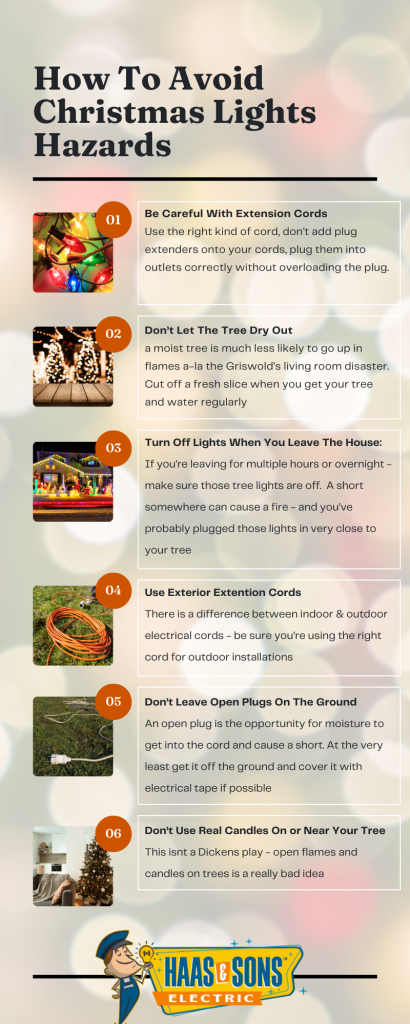 Another ladder caution: make sure you recognize if you are close to power lines. If you are on a ladder that slips and makes contact with nearby power lines you could be electrocuted.
Here's an unusual holiday lighting hazard  that you probably never thought about. You might be a high-tech guy who loves the blue and green laser lighting displays. Just make sure the lighting display goes no higher than the trees in your yard or the eaves of your house. Last year the FAA reported over 9,500 incidents of lasers affecting pilots who were taking off or landing their planes. So, if you live near an airport, be careful that your lasers don't shoot randomly into the sky.
Be Careful With Extension Cords to Avoid Fire Hazards
As you start securing your outdoor decorations, be sure that the staples don't pierce the coating of your extension cords. That can cause an electrical short. We don't want any Christmas Vacation extension cords mishaps here!
Another caution about extension cords, know the difference between an indoor and outdoor extension cords. For outdoor electrical work, your cord must have a three-pronged plug meaning it is grounded. Another little-known fact is that many counterfeit electrical cords are showing up in stores. Industries lose some $250 million each year because of counterfeit electronics. So, beware of those "deep discount" Christmas stores.  Read the labels on the box.  Are there misspelled words? Is there no company label? Does it look too flimsy? Play it safe and stay away from these "bargains." If you were to cut a normal extension cord with a utility knife you would see an abundance of copper wire. Do the same with the counterfeit and you will see only a few strands. A counterfeit extension cord like this will unquestionably be a fire hazard or will not work at all.
Another issue that can be a hazard of holiday lighting would be the end of your string of Christmas lights. Is it an open plug? What should you do about it? Experts differ on this topic.  Some say to cover the plug with a piece of electrical tape. But frequently water will still seep in and remain, causing a fire hazard.  Other people insist that the open end is OK, just make sure that the plug hangs downward which will allow any water to drain keeping the open connection relatively dry.
One thing for sure, don't leave the open end of the string of Christmas lights lying on the ground.  Water will often get into the plug. Also, water, dirt and minerals in dirt can often be a conductor of electricity and cause a short. A simple solution is to tape the end of the string on a couple of bricks which will keep the electrical connection off the ground and relatively free from water.
Having an outdoor outlet and outdoor lighting installed that makes it easy to "holiday" your home is a great idea – we can help!
Christmas Trees Can Be Highly Flammable – Hot Christmas Lights Are A Hazard
Inside the home is where you will find some of the most important holiday hazards to avoid. Fire chiefs say that about 260 fires occur each year involving Christmas trees. When dealing with live Christmas trees that are brought inside the home, you will find they quickly dry out. The tree is becoming dangerously dry when you see needles dropping on the floor or just touching the tree causes needles drop off.
The solution to a dry Christmas tree, probably the most dangerous hazard of holiday lighting, is to water the tree regularly. This will help to keep the tree somewhat moist and less likely to catch on fire. But inevitably the tree kept in a warm house for too long with too many lights will become a fire hazard.
What Not To To With A Christmas Tree To Avoid Fire Danger This Holiday Season Near Pasadena, Maryland
Here are four don'ts for Christmas trees in the house.
1. Don't leave it in the house too long. After a month, it's time to get rid of the tree.
2. Don't leave the lights on overnight or when you are going to be away from home for a while.
3. Don't set the Christmas tree within 10 feet of a fireplace. Burning embers from a lit log can fly to the tree.  Especially when you are stoking the fire or turning a log. A final don't:
4. Don't bring a lit candle too close to the tree. Dry Christmas trees are extremely flammable.
Enjoy a happy holiday season by avoiding the holiday hazards. Try not to keep up with Clark Griswold's Christmas vacation. You don't want yours to end up like his.