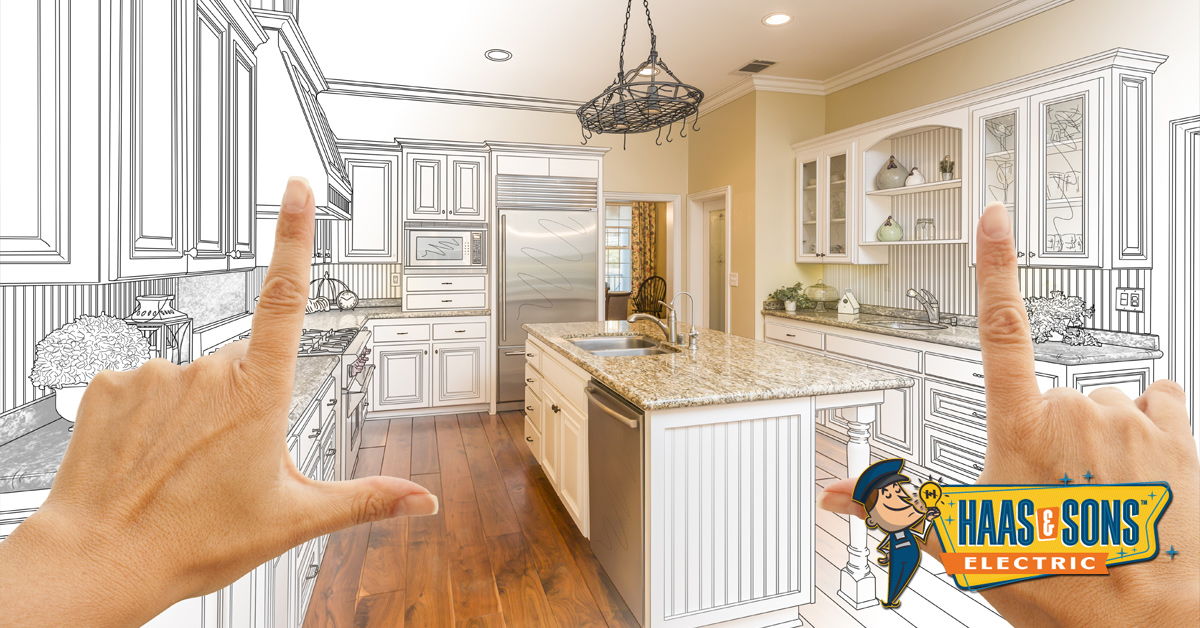 Are you ready for a kitchen remodel?
Many people get excited at the thought of how the new granite counter top will look in their redesigned kitchen.  Or they think about the beautiful tile backsplash they have ordered.  Others think about the deep, double bowl sink and the brushed nickel of the new faucets. Or the extra counter space made available by that lovely island in the kitchen.
But few consider the electrical do's and don'ts for that kitchen remodel. It's like that sparkling new house in a new subdivision. All well and good, but the builder better have thought about the wide streets and streetlights to get to that lovely new home.  Infrastructure matters. So does the electrical circuitry in a kitchen remodel.
Customers who have just completed a kitchen remodel in their home can be a good source of advice. Here's some advice from homeowners that should resonate.
"Don't start until everything is delivered."
"Plan on the process taking longer than you could imagine it would."
"Pay attention to the dimensions and how doors open.  That can affect everything else in the layout."
Plenty Of Circuits
Good planning is essential.  That is especially true when our electrician is planning the layout for the electrical circuits. A typical electrical layout might include 9-10 circuits: one each for the refrigerator, dishwasher, disposal, microwave, lighting and at least one for the breakfast nook area. The stove would need two circuits, unless it is gas. Many kitchens would require even more circuits. Our certified electrician must follow code when creating this layout.
A mistake at this point would be like getting a shiny new car that you ordered and forgetting to order air conditioning.  It is a correctable mistake, but one that should be avoided with good  planning.
Permits are important when doing kitchen remodels. It sometimes is advisable for your contractor to post the permit. Competitors of the firm doing your remodel might be the type to snoop around and report the firm if no permitting has been done. Obviously, this could cause major delays in finishing your kitchen.
In the process of installing the electrical circuits, our experienced technicians will use GFCI wiring with proper grounding. These circuits have a test button and a reset button for wet areas like the kitchen, bathroom or outdoors. Also, plan to have "dedicated" wiring. Our electrician will not put the garbage disposal and the washing machine on the same circuit or the kitchen lights with the refrigerator.
Another item for the list of electrical do's and don'ts for a kitchen remodel is to "clean up" wiring trouble spots. The former homeowner may have rigged wiring for basement lighting into the kitchen circuits in the floor above. Our electrician will keep the kitchen circuits wired in a way that makes sense and can correct the problems left by previous homeowners. Then if you have a problem later it is easier to isolate.
Your electrician will probably want to set up a separate circuit for the basement or garage. That way your teenager's screeching guitar riff won't blow out the circuit for your refrigerator or dishwasher.
Replacing A Wire
Even in minor remodels you may find there are electrical issues to consider.  Perhaps you are only getting a new countertop or replacing some old cabinets.  Perhaps there is one wire for a special fixture that is making you nervous. The wire might have been installed years or even decades ago and is not properly grounded. Modern wiring for a kitchen when the insulation is stripped back will reveal a wire that carries the power, a neutral wire and a ground wire. If there is an overload of some type, the ground wire will carry that extra charge and dissipate it rather than cause the appliances to be burned out. If water gets into your kitchen during a disaster, of  course, you will want to be sure wiring is properly grounded.
To replace the outdated wire from the kitchen, our electrician will disconnect it from the power box and pull it out.  He will carefully measure the length of the wire and replace it with a modern alternative of the same length. This is a perfect time to decide whether you want to add an additional out or even new lighting at the same time.
LED Lighting
Lighting is an often overlooked element in the kitchen but with prooper layering of light you can create a warm and inviting atmosphere that also lends it self to getting work completed without shadows in the work area. You may want to consider LED lights. These lightswill far outlast traditional incandescent and fluorescent bulbs. A panel of LED lights can fit unobtrusively underneath the cabinets and will provide illumination for meal preparation and entertainment. LEDs can also be used for standard overhead lighting as well. Speak with our certified electrician.  He will be able to help you create a plan that works for your kitchen.
Carefully considering the dos and don't in a kitchen remodel can make your remodeling project smoother and give you worry-free living for years to come.