The reasons you may be interested in contracting with a Pasadena area electrical contractor for electrical wiring help, or even a whole house rewrite project are varied.
You may be moving into a new house, that needs some fixes and upgrades to make it a home. In a hot market, fixer-upper properties are common, and inevitably a new homeowner will want to put their own stamp on the home's lighting, outlet placement, smart home opportunities, or even outdoor lighting and security lighting.
Maybe you're repurposing an existing room into a home theatre or office and need some outlets placed differently, or lighting updated.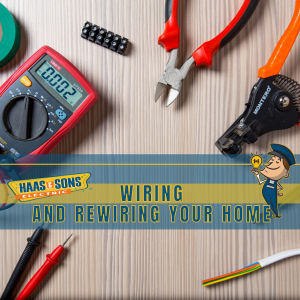 Any of these changes may require new wiring or rewiring - from minor adjustments to the whole room or entire home updates to correct out-of-code wiring.
On This Page: Installing Wiring, Rewiring Homes, Cost to Wire or Rewire, DIY or Professionals?, Client Testimonial
Hiring an Electrician to Install Electrical Wiring in Pasadena MD
If you're looking to expand your outlet options, or add better lighting in your kitchen, office, or bedrooms - we can help. An experienced electrician who knows the code intricacies of Anne Arundel and Howard Counties can ensure your electrical wiring is installed correctly, to code, and most importantly - safely.
Rewiring Homes near Pasadena, MD
Flickering lights, outlets making popping sounds, and tripped breakers are common signs that a home may need to be rewired, or maybe just an outlet or two. A wire may have been nicked during construction and a quick easy fix can be made. Quick fixes can range from $200 to $800, but each circumstance is different and requires a personalized quote to create firm pricing.
Buying a home? We recommend an electrical home inspection during the buying process. This can reveal rewiring is recommended in an older home.
Knob and tube wiring, which was common through the mid-1900s, will almost certainly indicate old wiring. This type of wiring does not use plastic or metal junction boxes for electrical connections. The wire is protected by ceramic tubes going through studs or joists, while ceramic knobs act as supports.
You can also check for outdated wiring by looking at the electrical panel to see if it has modern breaker switches or round fuses. The round fuses indicate that the system is old, and rewiring the house is recommended.
Aluminum wiring is also outside of code in Howard and Anne Arundel counties.
A home inspector hired during a purchase or refinance will check the inside and outside of the house to see if the wiring is up to date or if it needs to be replaced. Prospective homebuyers can get a good sense of how a home is wired, even before a home inspection, by peeking into the attic, basement, or crawl space.
Often, older homes still have non-working remnants of these older systems after being retrofitted with something more modern, so asking the seller is an important first step. In Maryland, seller disclosure laws indicate that if they know about an issue with the wiring, i.e. it's out of date, they must disclose it. If you are buying an older home, it is in your best interest to have an independent electrical inspection done to ensure you're not buying something that will need complete rewriting to meet code and safety standards when you decide to sell.
Specifically, if you live in an older home with circuit breakers that trip frequently, lights that flicker frequently, light switches that feel warm to the touch, or if you notice a burning or otherwise odd smell coming from an outlet, make an appointment with one of our expert electricians to have your electrical system inspected. We can also provide a quote to fix the problem, whether that involves rewriting, replacing fixtures, or some other solution.
Cost to Rewire a Home in Pasadena, MD
In today's homes, electrical devices such as appliances, gaming computers, and space heaters are becoming more important as technology advances. A wiring system that has not been upgraded is often insufficient for running such items. A tripped breaker can be the result of overloaded electrical circuits and poor performance. A house's old wiring can also pose a fire hazard, so the cost of rewiring is an investment in the safety of the home and its residents.
One of the first improvements homeowners seek to make to an older house is bringing the wiring up to code.
Rewiring a whole home can run upwards of $30,000 or more, depending upon the state of the home when we start. Has the home been stripped back to the studs or do we need to "swiss cheese" your walls and run wires throughout from section to section? If only a few rooms need to be rewired, it can run from $2,000 to $4,000 - but that also depends upon the construction obstacles, timeframe, elements you're replacing or adding, etc. A quote from Haas and Sons is really the best way to get a firm pricing estimate.
Unforeseen costs always arise when a home is rewired. Don't forget about the cost or time requirements if other trades that must come in after the rewiring is done to perform drywall patches, floor patching where necessary, and painting.
DIY or Hiring An Electrician to Rewire Your Pasadena, MD Home
You might consider rewiring yourself if you are a DIYer. Although you will save money, you will spend weeks cutting, drilling, running wires, and patching holes. Make sure you're familiar with local electrical codes and permits. Create an electrical plan that shows all the circuits you want to rewire or install as well as sockets, switches, and other features. All these preparation tasks alone may be too much for you to handle before you even begin working on your walls.
If you do decide to rewire the home yourself, you still need to have a certified electrician inspect your existing wiring and review your wiring map or problems. Most electricians balk at this, as they cannot assume liability for wires they don't install & run themselves. After your work is complete, you still must have a licensed electrician inspect your work. This is difficult, as most electricians will not inspect or sign off on work they didn't install themselves - and the inspection needs to be done before you cover the access points. That can mean a nightmare of open panels and walls until you find an electrician and they have time to come take a look.
And if you make a mistake, you can be risking more than just a crooked wall or a bump in your drywall mud job - electrical wiring issues can cause extreme damage if they're not caught. Having the insurance, guarantee, and reputation of a licensed electrician behind the work is important.
If you'd like to have some wiring or rewiring work done, give the experts at Haas & Sons a call today!
Another Happy Haas & Sons Client
We're proud of our 4.9 rating across 444+ reviews on Google, here's what one happy client says about Haas & Sons.
Michael installed a fixture for me.  It required some wiring that was beyond my level of expertise.  He was so impressive, I decided to have two additional rooms updated as well!

Vernie M.

⭐⭐⭐⭐⭐