Aluminum wiring was first used in residential construction in the United States in the 60s and 70s as a less expensive alternative to copper wiring. At the time, copper prices were extremely high, and builders and homeowners were looking for ways to save money. Aluminum was seen as an alternative because it was abundant, lightweight, and had good electrical conductivity.
It soon became apparent that aluminum wiring had some serious issues. Aluminum is a softer metal than copper, and it expands and contracts more when heated. This movement can cause connections to become loose over time, which can lead to shorts, overheating, and fires. Aluminum is also more prone to corrosion than copper, which can also cause connections to fail.
While any home built during this timeframe can have aluminum wiring, the most common cities and neighborhoods are Columbia, Bowie, and Glen Burnie, then we see this type of wiring in isolated areas in Arnold, Pasadena, and Severna Park.
On This Page:
Is Aluminum Wiring Bad?, Aluminum Wiring In The News, Do I Need To Rewrite My Entire House?, Average Cost To Replace Aluminum Wiring?, Aluminum Wiring & Home Sales, Buying a Home with Aluminum Wiring, Selling A Home With Aluminum Wiring, Failed Aluminum Wiring Reference Images, Is Replacement Worth It?, Aluminum Wire Inspections & Assessments, Happy Customer Reviews
Why Is Aluminum Wiring In My Maryland Home Bad?
In the 70s, reports began to emerge of fires caused by faulty aluminum wiring connections. This led to a number of lawsuits against builders, electricians, and manufacturers, as well as calls for better safety standards for electrical wiring during construction. The Consumer Product Safety Commission (CPSC) conducted a study in the late 70s and early 80s, which found that homes with aluminum wiring were 55x more likely to experience a fire hazard than homes with copper wiring.
Aluminum Wiring Fires In The News in Maryland
The following are just two examples of fires related to aluminum wiring that occurred in Maryland near our service area in Anne Arundel and Howard Counties.  These are just two local examples of the damages and costs associated with aluminum wiring in Maryland.
On July 21, 2021, A house fire occurred on Burning Bush Lane in Montgomery County, Maryland. As a result - a family was displaced. Fortunately, there were no injuries reported. According to Pete Piringer, the Chief Spokesperson for MCFRS, the fire originated in the attic above the kitchen, resulting from a wiring fault involving copper and aluminum wiring in the electrical system. The damage was estimated at approximately $130,000.
On Wednesday, January 12, 2022, A townhouse fire in Gaithersburg attracted nearly 100 firefighters as they responded to a call about people trapped in the basement. Firefighters arrived to find intense flames engulfing the townhome, raising a second alarm. Fortunately, all individuals trapped in the basement were accounted for without any injuries. The cause of the fire was likely traced back to the presence of extension cords, power strips, and aluminum wiring. Six townhome families were displaced, and a pet dog was unfortunately found dead.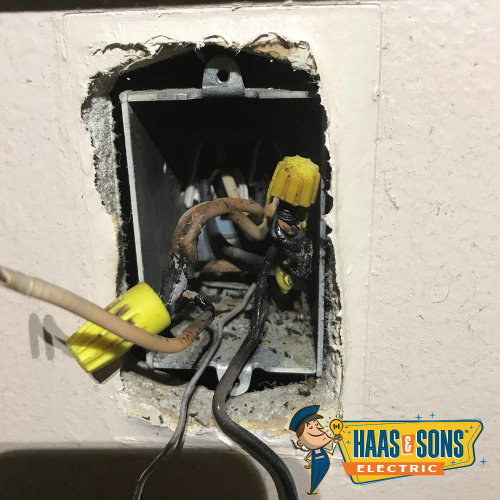 Do I Need To Tear My Entire Maryland Home Apart to Fix Aluminum Wiring?
Since the 70s and 80s, measures have been taken to address the risks associated with aluminum wiring. The CPSC advises homeowners with aluminum wiring to have their electrical systems inspected by a qualified electrician and take necessary precautions, such as replacing components with ones designed specifically for use with aluminum wiring. Contrary to what some electricians or home inspectors may tell you - aluminum wiring does not always mean your entire home needs to be torn down to studs and rewired. We do recommend completely replacing aluminum wiring with copper when possible. Often times over the years repairs, remodels, and relocations happen to a home where connections tend to get buried in ceilings and walls that we can't see. Re-wiring in copper ensures you have the safest installation possible. Aluminum wiring is still used today, but only in large gauges. The Code Book allows us to use aluminum of size #8 or larger. Aluminum has a lower melting point, so it has a lower ampacity rating than copper of the same gauge. For example- throw an aluminum can into a hot fire and it melts, throw a copper penny in the same fire and it doesn't melt. With the right use case, aluminum wiring is allowed, we just need to ensure we're following the code with its implementation and repair.
Since these studies and findings, the National Electrical Code (NEC) has been updated with more stringent safety standards for electrical wiring in residential construction, including requirements for proper installation and maintenance of aluminum wiring.
What Is The Average Cost To Replace Aluminum Wiring near you in Maryland?
The average cost to replace aluminum wiring can depend on many factors - including the scope of the work. You may choose to just replace any problem spots or maybe you want to update the lighting fixtures. You could choose to replace the aluminum wiring in a problematic section of the home. You may decide to just completely gut the house and have the wiring replaced while all the studs and wiring are exposed. These different approaches can create an extremely wide range of costs. The good news is we handle it all, from whole-home re-wire to replacing a single light or switch.
You might be looking at plus or minus $300 for minor repairs if isolated to one or two devices. If you need to repair an entire circuit, it typically runs over $1,000. Repairing an entire home runs several thousand dollars, and we've done plenty over $10,000. As the best solution, we recommend replacing the aluminum wiring with new copper wiring - unfortunately doing that for an entire house can cost more than buying a new car. Ultimately, pricing is completely dependent upon the scope of the job and we highly recommend you call us and chat with one of our experts and have us come take a look at the situation to get you more precise pricing.
Aluminum Wiring And Real Estate Transactions in MD
In Maryland, real estate agents and sellers are not required by law to disclose the presence of aluminum wiring in a property. However, they must disclose any known damage, defects, or issues that could impact the value or desirability of the property, including defects in the electrical system.
Is It Ok To Buy A House near me in Maryland With Aluminum Wiring?
If you are purchasing a home, aluminum wiring will inevitably come up on your property inspection - just one more reason to get one. Many realtors will tell you aluminum wiring has not been an issue to sell homes in Maryland - and that may be true, but knowing the aluminum wiring is not damaged anywhere is peace of mind insurance that only an electrical inspection on your new home purchase can offer.
The Maryland Association of Realtors (MAR) recommends that real estate agents disclose the presence of aluminum wiring in a property as a matter of good practice. The MAR also recommends that agents advise their clients to consult with a licensed electrician to assess the condition of the electrical system and to determine if any corrective actions are necessary.
It is important to note that while aluminum wiring itself is not illegal, improper installation or maintenance of aluminum wiring can be hazardous and may violate local building codes. Therefore, it is recommended that homebuyers have a professional home inspection that includes a detailed examination of the electrical system, including any aluminum wiring, before making a purchase decision.
Is It Hard To Sell A House With Aluminum Wiring in Maryland?
First, we're electricians, not real estate agents - so we'd discuss that with our listing agent upfront. As we've stated, it's not "against code" to have aluminum wiring in a house built pre the early 1980s. The wiring needs to be used in conjunction with fixtures that are designed to handle the heat and expansion of aluminum wiring. If there are any known issues with the aluminum wiring, they need to be disclosed.
Sharing the home has aluminum wiring up front may save some headaches when a property inspection comes back with the statement and it's a surprise to your buyers.
Is It Worth Replacing Aluminum Wiring?
Yes, whenever possible we recommend replacing aluminum wiring. It's going to be expensive, and messy, and you'll need your walls and ceiling patched and painted when we are done. This is the only way one can be sure there are no hidden dangers buried in the floor, ceiling, or walls. This wire is now 50-60 years old and most homes have had at least one renovation in that time frame.
The alternate solution is to use open every electrical box in the home and install Alumiconn devices, which are specially designed for use with aluminum wiring.
The only way to know for sure if your entire wiring system needs to be replaced is to have a licensed electrician come do a thorough inspection and give you a realistic assessment of your system as it stands today.
Aluminum Wire Inspection Services Near Millersville, MD
Haas and Sons offer electrical assessment services across Howard, Anne Arundel, and Prince Georges counties. Our team of highly trained, honest & ethical electricians will assess your home, build custom solutions for you to choose from, and perform any authorized updates within the agreed-upon budget and timeframes. We know this can be a big expense, which is why we offer payment options. Be sure to ask us to find out how low the monthly payment is.
Contact us today for a quote to replace or repair your aluminum wiring near Millersville today.
What A Happy Haas & Sons Customer Says About Our Electricians in Maryland On Google
Work was well done. Technician arrived on time. Job required extra work in order to remove old aluminum wiring that was haphazardly installed within an older structure, along with two new lines to replace the old one. The technician did a great job on it!
Edward H.
⭐⭐⭐⭐⭐
We're proud of our 4.9 rating across 524+ reviews on Google