While many get the words "monoxide: and "dioxide" mixed up very frequently when it comes to carbon monoxide detector installation in Pasadena, MD, the two compounds are very different.  Carbon monoxide has been called "the silent killer" because it can cause mild to severe side effects including dizziness, light-headedness, headaches, nausea, and even death if the exposure is a high enough concentration. Carbon monoxide is the byproduct of burning fuels, even wood in a wood stove, or gas from a gas fireplace or furnace. A licensed carbon monoxide detector electrician can advise you on the best units, installation, and placement of your carbon monoxide detectors in Ann Arundel county.
Carbon dioxide detectors do not exist.  Carbon dioxide is a natural byproduct and does not typically pose any serious health risks.  There is no detector for carbon dioxide, but there are carbon monoxide detectors that every home should have.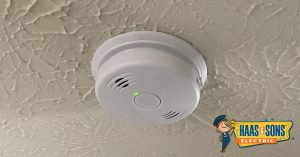 If you burn any type of fuel in your home via a range, fireplace, furnace, or other appliances like natural gas, propane, gasoline, oil, or even wood – then you'll want a carbon monoxide detector installed correctly and working efficiently to monitor the air in your home at all times.  Many homes have carbon monoxide detectors even if they're fully electric, and if you have an attached garage, you must have a detector to alert if car exhaust (which contains carbon monoxide) is causing an issue inside the home.
How Much Does the Average Carbon Monoxide Detector Installation Cost? 
The cost to install a carbon monoxide detector, including the work to hardwire it in, is around $600, depending on the difficulty. The price for replacing a CO detector is in the range of $300 per unit.
How do Carbon Monoxide Detectors Work?
Carbon monoxide detectors have integrated sensors that constantly monitor the air in your home and measure how many particles of carbon monoxide are present. Some detectors give a digital readout of how many particles while all detectors sound off when a preset level is reached.
What do The Beep Patterns from a Carbon Monoxide Detector Mean? 
Carbon monoxide detectors are designed to beep with different patterns. Four rabbit beeps, five seconds of silence, and four beeps indicate there is a dangerous level of CO or a malfunctioning alarm. One beep every 30 seconds means- end of life, replace the battery, or malfunctioning alarm. Random/ intermittent beeping is typically from a loose or improperly installed battery. There could also be something going on in the home that is causing the random beeping such as high heat (over 95 deg) or high airflow like a fan is blowing air on it.  If your carbon monoxide alarm is beeping and you don't know the reason why having a licensed electrician come take a look is the safest next step.
Can Carbon Monoxide Detectors be a Combined Unit With a Smoke Detector? What Are The Pros and Cons? What is the Shelf Life of a CO Detector/Alarm? When Should They Be Replaced?  
Yes, Carbon monoxide detectors can be combined with smoke detectors and sold as dual function units. Typically this can save you some cost over having to buy each one individually. A great feature if you have hardwired detectors is that they are interconnected, meaning that if a detector senses an issue in the basement in the middle of the night it will set off all the other dual-function detectors in the home to alert you of an issue! The only downside to a dual unit could be replacement cost – but it's typically just a few dollars more than buying separate units.
How many should I have in my house?  Do I need a carbon monoxide detector in every room? Next to every smoke detector? What does the Code in Pasadena, MD/Anne Arundel County Indicate about Carbon Monoxide Detector Installation?
You should have a CO detector on every level of the home and particularly by any sleeping areas. You want to be alerted and woken up should you be sleeping during the emergency. You do not need to have them in every room, but at least one on each level and outside the sleeping areas.
What does the Code in Pasadena, MD/Anne Arundel County Indicate about Carbon Monoxide Detector Installation? 
Code for Pasadena, MD which is in Anne Arundel County says you need a carbon monoxide detector (CO) if you have any burning fuels, attached garage or fireplace/stove. 
What is the Shelf Life of a CO Detector/Alarm? When Should They Be Replaced?
CO detectors are designed to have a shelf life of 10 years and then they need to be replaced. Most carbon monoxide detectors have an expiration date on the back, just like smoke detectors do. Check this date whenever you change your batteries just to make sure everything is within its expiration date.
Carbon monoxide detectors are designed to alert you to an issue within the home with enough time to get you to safety before any adverse reactions occur in you or your family. Hiring a licensed electrician will help you make certain that you have the correct units, installed correctly, and within code requirements for your area. Call or Text Now us now at
443.396.2555 or Contact us to have one of the expert electricians at Haas and Sons help you ensure the safety of your home today!  
What Our Happy Clients Have to Say on Google:
Michael called 30 minutes prior to the appointment to confirm he was on his way (both times), he showed up on time and he was very professional and knowledgeable about all of our electrical/lighting issues. Day 1 installed 3 new ceiling fans, 2 new light fixtures, 3 up to code new smoke/carbon detectors and relocated existing chandelier. Michael W's work was excellent. So happy that we created another days work of replacing old and outdated fixtures for the following week. I highly recommend Haas & Sons Electric to my friends and family.
C. Wax
⭐⭐⭐⭐⭐