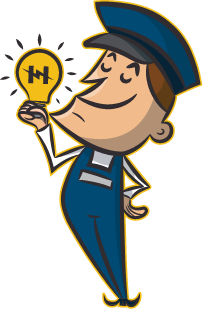 $50 Off

Smoke Detector Replacement
Protect your home and family with a brand new smoke detector! Your safety is our top priority. Get $50 off a new smoke detector replacement and breathe easy knowing your home is protected.
Smoke detectors constantly monitor the air in your home for smoke particles. Once they sense smoke in the air, they sound their alarm. Smoke detectors come in two forms- Ionization and Photoelectric. Ionization alarms detect rapid burning fire while photoelectric detect slow, smoldering fires.  While they work differently,  Both smoke alarms will detect the smoke from either a smoldering fire or a flaming fire.  The ionization alarms detect smoke from flaming fires faster than a photoelectric, and a photoelectric alarm detects smoke from a smoldering fire faster than an ionization alarm.  A licensed smoke alarm electrician can evaluate your current units, and recommend the right replacement to fit your home's specific needs.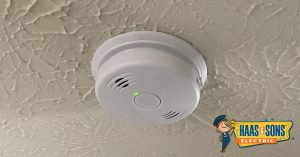 Most of the alarms installed in our homes here in the Pasadena area, or available for purchase at our local home improvement stores can be either Ionization or Photoelectric, some may even have dual sensors.  Ionization detectors tend to be a bit less expensive, so in many cases, those are what we see in your homes.
There are recommendations from the US Fire Administration, a division of FEMA, that placement may be more important than type for most smoke detectors.  Their recommendation at this point is to have locations where people sleep armed with both photoelectric and ionization detectors or use a dual-sensor detector.
Why Hire an Expert Smoke Alarm Electrician from Haas and Sons to Assess your System & Needs?
Our expert team can come and assess your current smoke detectors and make a recommendation for updates to ensure both flaming fire and smoldering fire smoke can be detected and you can be alerted as quickly as possible.  Hiring a licensed electrician can alleviate hassle by ensuring you've got the right unit, placed in the right position. For new construction or remodels, you can occasionally run into code issues when you're trying to get a certificate of occupancy issued to keep your project on track.  
Hiring an electrician also gives you the peace of mind that the job is done right, warrantied, and you and your family are safe and covered in the event there is a fire in your home.
Troubleshooting Your Smoke Detectors:
I changed the battery, but the detector won't stop beeping - what do I do? 
Check to make sure you have installed the battery correctly. Next, unplug the wire harness, remove the battery, hold the test button for 30 seconds. Then reinstall the battery and reattach the harness. If the unit still beeps you could have a faulty unit or a wiring issue. We recommend to call us if it continues to beep so we can trace out exactly what the issue is and provide permanent solutions. 
What would it cost for you to come and make these smoke detectors stop beeping? 
Our service charge to come and assess the issue is only $89. We will do performance and safety testing on the smoke alarms and the wiring for them. If there are repairs needed we will provide several solutions to fit your budget, from a bandaid repair to get you by, to resetting the life of the circuit for the most permanent solution. 
Sensitive Sensor Issues
My kitchen detector goes off when I make toast (it isn't even burnt!) - how can we make them less sensitive?
They make detectors specifically for kitchens that aren't supposed to be as sensitive. We recommend having smoke alarms placed in each bedroom, the hallway outside the bedrooms, and at least one on every level. We do not recommend them being in or close to the kitchen because they do nuisance trip from using the oven and in most states (including MD) they are not required at that location.
Smoke Detector Installation & Maintenance FAQ
Hardwired vs not - which are better? 
Hardwired smoke detectors are the best type and if your home was built in 1978 or after, you likely already have some. Hardwired smoke detectors are interconnected so that if one goes off it signals them all to go off. New homes are required to have hardwired smoke detectors in each bedroom, the hallway outside the bedroom, at least one on each level of the home. 
Should I buy the units or will you bring them?
We always bring smoke detectors and combo smoke/ carbon with us. The main difference in supplying your own is that there would be no part warranty from us. If you had a defective unit, you would be responsible for paying for the return visit and exchanging the faulty detector.
Shelf Life - when should they be replaced? 
Detectors are required to be replaced every 7-10 years. New detectors come with a built-in 10-year timer to notify you of replacement. 
Do you need one in every room?
Smoke Detectors are required in each sleeping area, outside the sleeping areas in the immediate vicinity, on each additional story of the home including basements and livable attics. 
My current detectors are not hardwired, do I have to pay for a new system?
If your current detectors are hardwired, they have to stay hardwired. Certain additions/ remodels will require you to bring the smoke alarm system up to current code which will require them to be hardwired. Detectors should be interconnected as well, this can be by either wiring them together or use a listed wireless style detector.
Is a smoke detector/carbon monoxide detector combo required?  Can I get them separately? 
Combo smoke/ carbon detectors are permitted in lieu of smoke alarms or carbon monoxide alarms. You can also have each separate detector if you want.
Average cost per unit to have smoke detectors installed/replaced? 
Most companies will be charging $100  or more per detector to replace them. New installation costs will vary from $200-$400 for having to fish in the wiring.
Facts about Smoke Detectors:
New building code requires new installation of detectors to have sealed, 10-year batteries as well as being hard-wired into the home. 

If your kitchen detector is uber-sensitive, let us come move it for you.  It's not required to be in or right next to your kitchen - moving it could reduce your stress levels significantly.

Smoke detectors should be checked about once a month

Change the batteries in your smoke detectors every time you change your clocks in the spring and fall. Do not stop at just testing them, change out those batteries.

Almost three of every five home fire deaths resulted from fires in homes with no smoke alarms (41%) or no working smoke alarms (16%).

Every smoke alarm has a manufactured date on the unit - check these and make a note when you move into a new home.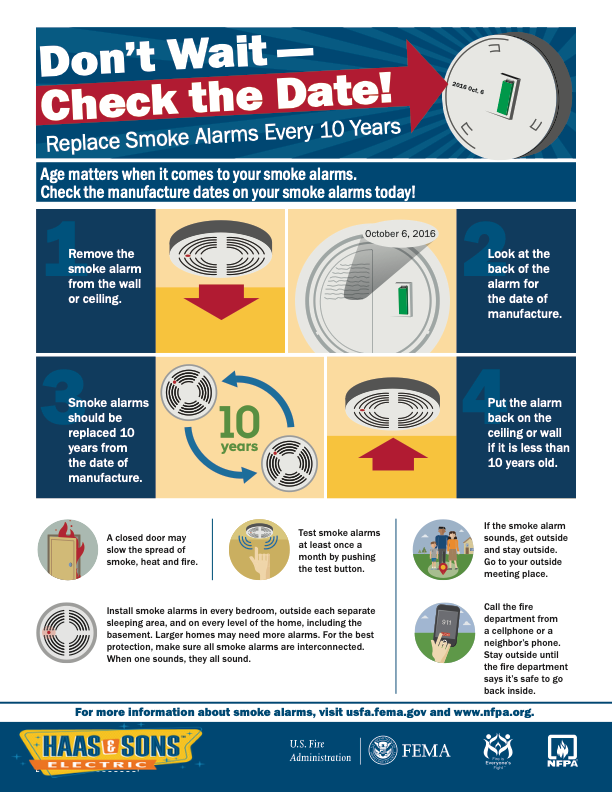 What Our Happy Residential Electrician Clients Have to Say on Google
Alex arrived on time and installed a new bathroom vanity light fixture for me. He also did a safety check of my electrical panel and made some improvements.Alex noticed that my electrical smoke detectors were old. I happened to have new ones and he replaced them for me. Alex was friendly and answered my questions. His work was efficient and professional.

JC P.
⭐⭐⭐⭐⭐
We're proud of our 4.9 rating across 524+ reviews on Google