Homeowners throughout the world consistently rely on electricity to power everyday technological devices. However, the dependability of these technologies shouldn't be compromised by a faulty electrical system. Contact the professionals at Haas and Sons today for reliable home electrical repair and maintenance!
What are the best LED recessed lights?
The top four LED recessed lights are: 
Hyperikon 4-inch Dimmable 9W LED Recessed Lights 

Sunco Lighting Remodel LED Can Air Tight IC Housing LED Recessed Lighting

Ensenior Ultra-Thin LED Recessed Ceiling Light

Lithonia Lighting WF6 LED 30K Recessed Ceiling Light
These LED lights rank high in customer reviews because they last long as well as light rooms effectively. When deciding which recessed light is best for you, you should also consider if you want your recessed lights to be dimmable. To find out more about getting recessed lighting installed, contact us today.
Is recessed lighting outdated?
Recessed lighting is not outdated and will not become outdated easily because of its unique design. Your recessed lighting may look outdated due to the trim, which can be easily replaced with a more updated style of trim. Recessed lighting at its core provides light to a room effectively while sticking out less than most light fixtures. Recessed lighting is upgradable and replaceable. To learn more about getting recessed lighting in your home, give us a call today.
Do you need an electrician to install recessed lighting?
Yes, you should have an electrician install recessed lighting. Installing recessed lights is more difficult than installing typically light fixtures since they rest inside the ceiling. If you install recessed lighting incorrectly, you can have issues with insulation, overheating and incorrect wattage. Having an electrician install your recessed lighting ensures that it is installed correctly and to code. Additionally, if you end up experiencing any issues in the future, then it is covered under warranty. To get recessed lighting installed in your home, call us today.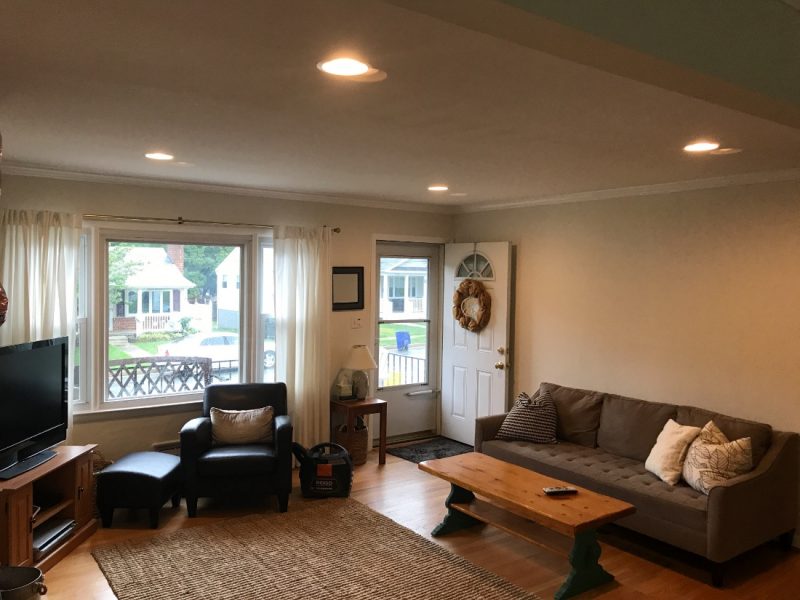 Warming the Heart and Home with Recessed Lighting
Installing recessed lights in your home has been a popular option for decades and never goes out of style. They can even help improve your home's value by showcasing particularly impressive areas as well as providing a warm look and feel. Recessed lights are also known as can lighting that can be installed as new construction or remodel where the drywall is up.
The most popular choice of late is canless recessed lighting, as it can be installed nearly anywhere in the home. Obstacles like beams, water pipes, air vents used to force us to move the location of the light, but the canless recessed lights are so thin they can fit in a variety of places.  They're a great replacement for an outdated light fixture as they're easier to add on than the old recessed lighting cans.
Good quality canless lights will be dimmable and have a color selector so we can make sure you're getting the right type of light whether it be cool lighting for the kitchen, or warm lighting for the living room. LED recessed lights have been the norm for years now regardless of whether they are canned or canless, and both come in a variety of sizes. Six and four-inch are the two of the most popular sizes for can lights. 
The most popular areas to install recessed lights are:
Kitchens

Living Rooms

Soffits

Hallways

Bedrooms

Bathrooms

Closets
How to choose the best-LED lighting for your home? Read more here. 
How much does it cost to install recessed can lighting?
In Maryland expect to pay $150-$300 per light. The installation cost will vary depending on the type of light, ceiling height, and ceiling finish. Most electrical contractors have a preferred brand they like to use for all their recessed lighting in which case the biggest factor is the labor. High ceiling like in a foyer or vaulted ceiling in the living room will greatly impact the price. Even having a 10-foot ceiling opposed to the standard 8 foot will bring the price up a bit because of the increased labor time. A ceiling made of plaster will cost more than a drywall ceiling.
How long does it take to install recessed lights?
Recessed lights take on average 30 minutes to 1-hour each depending on how difficult it is to fish the wires in the ceiling. With this, you also have to expect time for protecting the area first with drop cloths, measuring out the room, laying out the lights, cutting all the holes to fishing the wires, installing the recessed lights and the cleanup process when it's all done. Installing a group of 4 lights on average would take about 4 hours whereas installing a group of 6 lights may only take 5 hours.
Can a handyman install pot/can lights?
It is strongly recommended to hire licensed electricians to do any wiring in your home. Legally, no handymen are not allowed to do any wiring in the state of Maryland unless they have a Master Electrical License or are working under someone else's license and insurance. The electrical trade is a skilled trade that requires a minimum of 7 years of documented work and school to be eligible to become a Master Electrician. Some handymen may know how to do the wiring while others don't and as a consumer, there is no way for you to know since they don't have the license indicating they have the proper training, let alone insurance.
LED Recessed Lighting is Here to Stay
Most people are installing canless LED recessed lights that have adjustable colors from warm to cold and dimmable to fit your mood so you fall in love every time you enter the room!
Haas & Sons is your trusted local electrical company that knows its lighting and will help make sure your home is lit perfectly. Our customers love how well we take care of them, their family and their homes. 
When you want it done right and professionally, call us to set up your installation today at 443-396-2555.
What Our Happy Residential Electrician Clients Have to Say on Google
Our electrician Michael was great. Very knowledgeable polite and took his time to explain our options to us. He set up so as not to get the work area messy and cleaned up after he finished. Had new exhaust fan installed and light fixture installed and renovated an outlet. Couldn't ask for better service.

Steven H.
⭐⭐⭐⭐⭐
We're proud of our 4.9 rating across 524+ reviews on Google