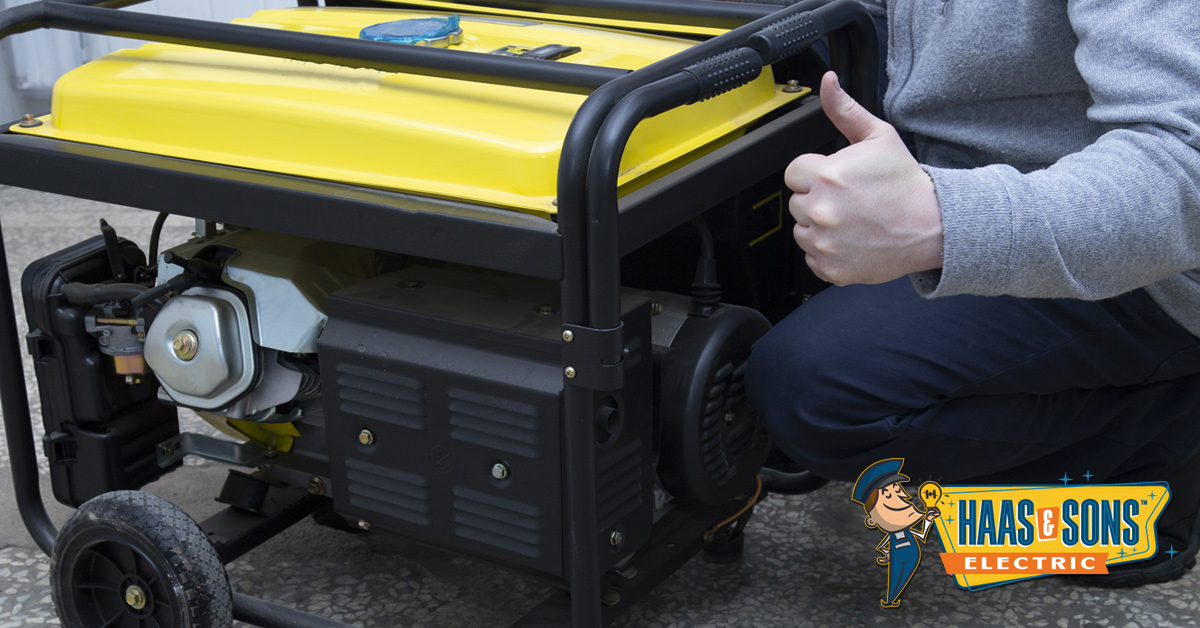 If you own your own home , Yes and if 2020 has taught us anything, it's that we should always try our best to be prepared for the unexpected. Although there have been numerous unforeseen events this year, one thing we can plan for, are yearly storms and possible power outages.
Knowing all this, it would be smart for homeowners to prepare themselves for the loss of power at some point in the year. One of the best ways to do so, is with a portable backup generator for their homes. Take advantage of the time you have now and look into whether a portable generator is the best option for you and your family.
Portable Generators vs Standby Generators
The two main kinds of generators you can purchase for your home are portable generators and standby generators. Although both kinds of generator perform the same basic tasks, each kind has its own advantages; cost and convenience set both generators drastically apart.
What are some of the main differences between portable generators and standby generators?
The main difference between the two generators is that portable generators are much more affordable when purchasing and installing. Although standby generators are more hands off, requiring less manpower, they aren't the most affordable option to the average homeowner. A generator unit itself can cost anywhere from $1,900 to $12,000 depending on the kind of fuel used and its power capability. Then you have to have it professionally installed and a fuel source hooked to it which takes the total investment to $5000 to over $20,000.
On the other hand, portable generators are the most popular choice due to their affordability when it comes to purchase and installation. A portable generator unit will run the average person between $500 to $1500 and the installation with a manual transfer switch will run an additional $1000 to $2500.
When connected to a home's circuit breaker panel via transfer switch, they can power almost as much as a standby generator.
Most portable generators run on gasoline. They burn through 12 to 20 gallons per day depending on the output of the generator and the load it's powering. With that said, a small amount of portable generators run on natural gas, liquid propane, or diesel fuel. We do recommend dual fuel models if available. Several have the option to use Gas or Propane.
In the event of an outage, portable generators would need to be moved out of storage, and connected to the home's circuit breaker panel and fired up. If this occurs during a rainstorm, the portable generator would need to operate under some kind of cover or canopy.
Whereas portable generators are wheeled out and stored when needed, standby or stationary generators are permanently installed by a professional electrician and are stored in a housing that keeps them safe from the elements and relatively silent.
The main advantage is that these generators will kick in automatically as soon as the lights go out and can power everything in a home at one time. They also run on natural gas or propane, meaning they can operate for days to weeks at a time on a full tank, and indefinitely if operating on natural gas.
Manual Transfer Switches
Having a manual transfer switch installed will free you from the headache of having to roll out extension cords to power your home and you can even run some 240v devices as well. For me, the best thing about the manual transfer switches or Interlock Kits is that you can use all your lighting circuits as normal. 
Do I need a manual transfer switch?
No, but it does make backing up your home a whole lot easier! 
What is a manual transfer switch?
A manual transfer switch is a mechanical device that allows you to switch from Utility power to Generator power. 
What is the difference between a manual transfer switch and interlock kit?
A manual transfer switch is a separate electrical box from your main electrical panel box. In this box it contains the circuits that you have the ability to back up from the generator and a selector switch to go from utility power to generator power. 
An interlock kit fits on your existing main panel box. This kit forces you to turn the main breaker off before you can turn on the generator breaker and then backfeed the panel. It's designed this way so we don't backfeed the utility lines by accident and injure the workers, your neighbors or yourself. 
When given the option we prefer the interlock kits as it allows you to back up the entire home and you can turn off and on what you like as you need and have the capacity to. Manual transfer kits are a great option if you prefer to know exactly what you can have on without overloading the generator. 
How much does it cost to install a transfer switch or interlock kit?
Interlock kits generally will set you back $1000 to $1500. Manual transfer switch set ups often run $1500 to $2500 depending on how elaborate the system. The transfer switches have a much higher parts cost and the labor is normally a few hours longer to install them. 
Not sure which one is best for your home? Then call us at 443-396-2555 and we would be happy to answer all of your questions. 
Which Portable Generator is Right for You?
How much Power do you Need?
Portable generators provide between 3kW and 10kW. The size of the generator will depend greatly on what you want to be able to run during a power outage. We recommend getting at least a 6kW so you can use all the small circuits of the home and possible one large one at a time. Once you get into the 10kW and bigger you can really use anything you want without worry of overloading. 
Not sure which size you need? Fill out our contact form and we can assist you.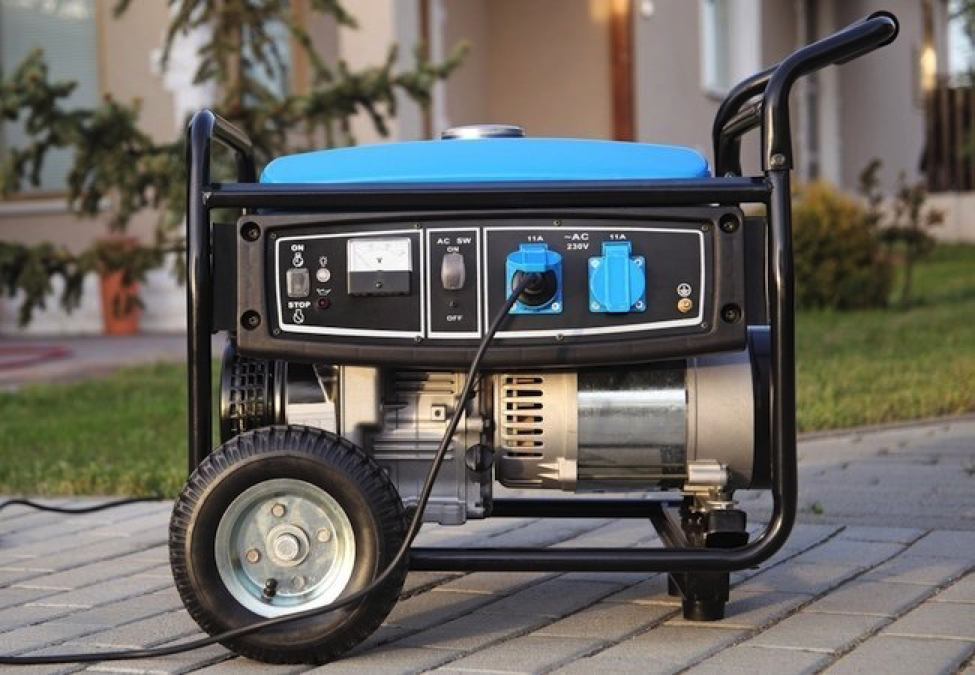 How do you determine what size generator you need?
The size of the generator you want depends on what you're looking to power. Making a list of necessary appliances that would need to stay alive during an outage is a great way to start. Try to keep comfort items and necessary items balanced. Here are examples of what to keep in mind when deciding how powerful you want your generator to be: 
Lights usually need 60 to 500 watts to start.

LED TV 240-400 watts

Phone Charger 10 watts

Laptop around 200 watts

Sump Pumps 800 watts

A refrigerator needs about 600 watts.

A microwave needs about 1000 - 2000 watts.

A portable heater may need 1,500 watts.

A sump pump requires about 1300 - 2150 watts to start and about 800 - 1050 watts to run.

Electric water heaters need 4000 watts at 240 volts
Booking an appointment with a local, trusted electrician will help you decide what will work best for you. A professional will be able to help you figure out a load calculation and inspect your home's electrical panel and circuits to make sure you select the right size.
Are Portable Generators Safe?
Portable generators are safe, but just like any electrical appliance, they require a reasonable use of precaution to avoid hazardous situations.
Portable Generator Safety Tips:
Never run a generator in an enclosed space or indoors. Most generator-related injuries involve CO poisoning because generators were used in enclosed spaces such as basements or garages. These places typically have poor ventilation.

Always run your generator at least 20 feet from the house with the engine facing away from windows or doors. 

If you're using a generator to keep the lights on while cleaning or working on a project, it is recommended you use a battery operated carbon monoxide detector. This device has an alarm that will sound once it detects a certain amount of carbon monoxide in the air.

Don't run a portable generator in the rain. Make sure you have a well-ventilated tent or cover to shield it from the elements.

Before refueling your generator, turn off the gas powered generator and let it cool. This will avoid potential fire hazards if gasoline is spilled on hot engine parts.

Stock up on extra gasoline and store correctly.

Don't store gasoline near any potential sources of heat or fire or inside your home. 

Make sure to use a transfer switch when hooking up your generator. Although installing a transfer switch may cost a bit more, this connection is very important. A transfer switch connects your generator to your circuit panel and will let you power hardwired appliances without the use of extension cords, which can be dangerous. Do not try to backfeed your house. Backfeeding is powering your home's wiring by plugging the generator into a dryer outlet. Doing this puts utility workers and your neighbors using the same utility transformer in danger of electrocution. You could also end up starting a house fire. 

Maintain your generator at least twice a year. They are small engines that need to be exercised regularly and maintained so they will work when you need them most. 
How to use a Portable Generator
Step 1:

As previously mentioned, place the generator outdoors at least 6 feet away from the house on a flat, stable surface. Position the generator so that the exhaust is pointing away from any windows and doorways.

Step 2:

Plug your generator cord into your power inlet box and turn all the breaker/circuit off that are in the manual transfer switch. If you don't have one and need to run out extension cords then make sure to use heavy duty ones.  

Step 3:

Before you turn on the generator, make sure there's nothing plugged into the unit, that the gas tank is full, and the gas cap is secure. Always have fresh fuel on hand for refueling if necessary.
Caution:
Keep the fuel stored away from the generator for safety. Always make sure that the generator has fully cooled down. Never refuel the generator before it has had a chance to cool down.
Step 5: 1)

Turn the fuel valve to the ON position,

2)

set the ON/OFF switch to the ON position.

3)

Pull the choke handle out to the CHOKE position.

4)

Push and hold the start switch in the START position until the generator starts.

5)

Gradually push the choke handle into the RUN position,

6)

let the motor run for a while before plugging anything in.

Step 6:

 

(Manual Transfer) Now you can plug your generator cord into the generator and power the manual transfer switch. One by one turn the circuits on, starting with the larger ones first.  

(If you run out of cords) When you're ready to plug things in, start with the item that requires the most power and go decreasing from there. Connect the item to the extension cord, then plug the extension cord into the generator housing.

Step 7:

When you need to add more fuel, turn everything off and allow the generator to run a little longer. Make sure the generator is off and flip off the fuel switch. You will need to redo step 6 once you have it back up and running.  
What are some Recommended Models?
There are many great brands to choose from to fit your needs. We recommend Honda, Generac, Kholer, and Champion. These brands are very popular and parts are readily available for when you need maintenance.  
Conclusion
Portable generators are far less expensive than automatic generators, can provide power for most or all of your needs, but do require some maintenance like any small engine. Portable generators are an extremely useful way to weather a storm or unexpected power outage. They will provide all the energy you need to power your basic appliances keeping you and your family safe from the elements, your food safe from perishing, you connected to major news outlets, and keeping you comfortable. If you have any questions call your favorite, trusted, local electrician today! Haas & Sons Electric is always ready and happy to help!