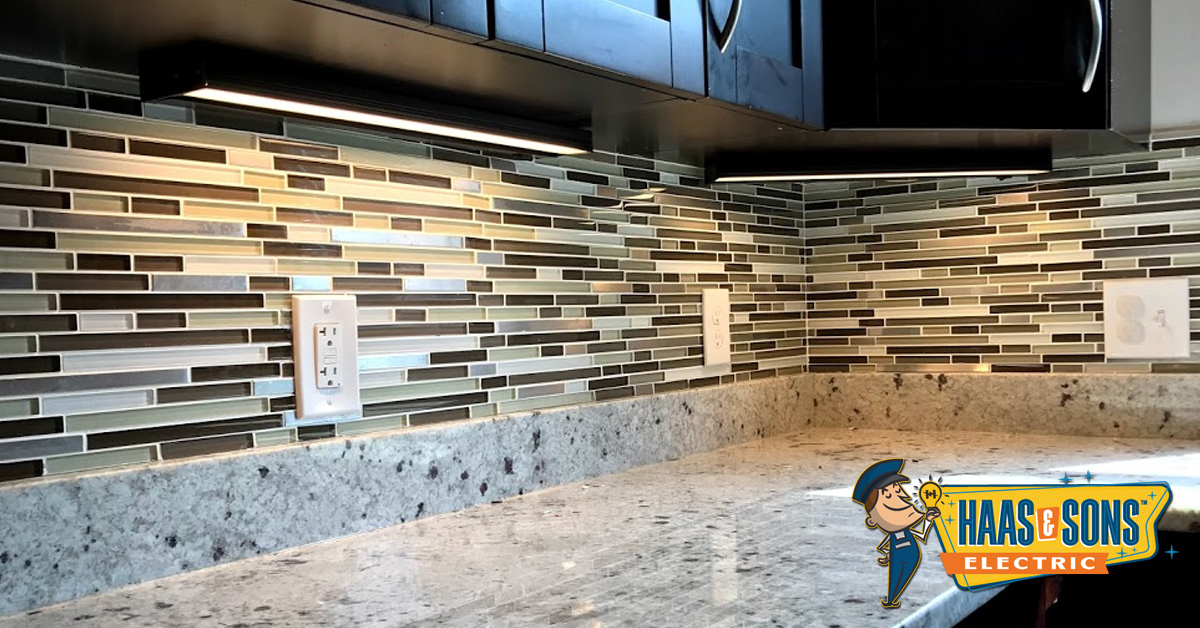 Welcome to the neighborhood!  Now that you've purchased your home and you're ready to move in, you'll want to consider doing an electrical makeover. Depending on the age of your home, there are several areas you can upgrade to ensure that your house can keep up with today's energy and technology demands. Let's review your options.
Brighten Up Your Home by Installing New Lighting
The lighting and fixtures in your new home may not be in the style for which you care. They may be older and inefficient. There are so many types of lighting available now that you may just want a change. Whatever your reasoning, changing out lighting fixtures is a great way to put your imprint on the new home and express your sense of style when it comes to lighting.
You may want to install different types of lighting. One of the most requested changes is the installation of recessed lighting.  These lights brighten up the space without taking up space in the room.  You'll need to have a licensed electrician install the wiring for the installation. Once you've done your shopping and purchased the lights you want to change out, call Haas & Sons, and he'll have the new and improved lighting up in a flash. 
Ask us about installing pendant lights for you… even if you don't have the wiring for them.  We can install what you need, put the pendant lights in, and you'll soon have the lighting you've been dreaming about.
Install New Ceiling Fans
When you move into your new home, one of the first things you may want to address is updating and getting new ceiling fans installed. In addition to updating your rooms' look, new ceiling fans run much more efficiently than the ceiling fans of yesteryear. They may also help to keep energy costs down.
Most ceiling fans will indicate the blades' size, and in what size room they are most effective. It's essential to get this right, so pay attention to this information when shopping for replacement fans. Having the wrong size ceiling fan in your room can be inefficient and uncomfortable. 
Taking down the old ceiling fans and installing the new ones does not always require an electrician, if you're confident in trying it on your own. Still, many people prefer to have them professionally installed. It is incredibly difficult for one inexperienced person to install since they must generally be held up overhead and installed simultaneously. 
Increase the Amperage by Upgrading to a 200 Amp Service Panel
This upgrade is not cosmetic. Instead, it lies at the very foundation of your electrical service. If you have, or if you are thinking of adding a pool, home office, home theater, or any other feature that requires electricity, chances are your older electrical panel cannot accommodate those changes efficiently. Some older panels will quit if you plug in too many appliances at once. If you can't dry your hair and make your coffee and toast at the same time… you need to upgrade your service panel.
Most modern homes require a 200 Amp service panel. The increased amperage brings the capacity to use more power safely and within the limits of the system. Although it's a nuisance to have your breakers trip and lose power, that's much better than the alternative. Overburdened systems can lead to electrical fires through overloaded fixtures and outlets. This upgrade requires a licensed electrician, but it's one of the essential upgrades you need for your home.
Updating Bathroom Exhaust Fans
It's not glamorous or fun, but updating your bathroom exhaust fan is one of the most practical things you can do when you move into a new home.  Protect your bathroom surfaces… your drywall, wood, and tile, by ensuring that your exhaust fan is powerful enough to remove moisture from the air in your bathroom.
Homeowners tend to look for an attractive fan. However, the most important factors to consider are size, air movement quality, and the amount of noise it makes. 
After you've got the basics covered, you can look for a fan with additional features that are available, such as humidity sensing features.  Fans are available with timers, and some with motion detection and preset timers.  
Purchasing a Backup Generator
When bad weather hits, don't let power outages wreak havoc in your home. We depend on the internet for so many things these days… you don't want to be stuck offline during a power outage. Losing your heat can be dangerous and is, at best, uncomfortable. Spoiled food in your refrigerator and freezer can add up to hundreds, if not thousands, of dollars.
Installing a backup generator for your new home means removing this terrible situation from your list of worries during cold weather snaps. Keep your heat, hot water, and ability to cook and maintain food supplies when it's cold outside. 
Contacting a licensed electrician for this job means that you will have it professionally installed, complete with an automatic transfer switch. Get the peace of mind you need to face colder weather with ease.
Whole House Surge Protector
Power surges come from a variety of sources, some internal and some external. The most common causes of power surges are storms causing power to flicker, and lightning, and it's challenging to know when this threat will hit your home. You may have a few power strips here and there around the home, but install a whole house surge protector for maximum protection. With this installation, you will have protection for all electrical devices in your home. 
This upgrade will require a licensed electrician but will be worth it if you experience even one significant power surge without protection for your electronics. Whole-home surge protectors work just like the strips you plug into, but on a much grander scale. They protect the entire home and everything connected to it, from your kitchen appliances to the air conditioning unit to your cell phone charger and even an electric car charger. The electrician will open and use the main electrical panel to install your whole house surge protector. Don't take chances with your computers and other electrical tools… consider calling your electrician for this upgrade right away!
Changing Out Aluminum Wiring to Copper Wiring
If your home was built from 1966 to 1975, it is very likely to have aluminum wiring. It might have been built with aluminum wiring. Over 2000 house fires happen every year due to issues with aluminum wiring. So, you must take steps to prevent this fire hazard from causing hardship.
Aluminum wire is often connected to copper devices like switches and receptacles. The issue is the dissimilar metals can corrode over time and cause failures. 
You have two options when aluminum wiring is an issue. Obviously, you can have the whole house rewired with copper wiring to ensure safe connections. This is the best and safest method there is. The other option is less expensive and therefore preferred by many owners. The process involves adding copper connectors to all lighting, devices, and outlets. In the industry, this is called "pigtailing."
Replacing Faulty GFCI Outlets
Ground Fault Current Interrupting (GFCI) Outlets prevent hundreds of people from electrocution each year. The outlet trips when it senses electricity being grounded.  This would occur, for example, if you dropped or knocked an active electric appliance into water. When the outlet trips, it immediately and automatically stops the power.
As part of your new home electrical inspection, you should have an electrician check all your GFCI outlets. These outlets are commonly found in the kitchen and bathroom, where water is likely to be present. Any faulty outlets located need to be replaced to ensure the electrical safety of your home.
Bring Your Smoke Alarms Up to Code
The National Fire Alarm and Signaling Code have new requirements for smoke alarms. Many existing houses are not in compliance. Before you begin life in your new home, make sure you've got the right protection from a fire in the home.
Your smoke alarms should all be hard-wired, interconnected, and equipped with a sealed ten-year battery. The code was also amended to require that you have one on each floor with living space and one alarm in each bedroom. The alarms in the living areas should register smoke and carbon monoxide.
Upgrading the smoke alarms to bring them up to code is not a DIY job. It requires that you shut off the house's central power. A licensed electrician should do these upgrades since the alarms are hard-wired and interconnected. If you're not comfortable doing this on your own, contact us at Haas & Sons Electric, and we'll come out and take care of it for you.
Electricity to Other Buildings
Suppose your new home features additional freestanding structures, such as a garage, workshop, pool house, or shed. In that case, you might want to run electricity to these buildings if they are not already wired for electricity. You may need permits to do this, but your electrician will have this information for you.
It's essential to use a licensed electrician for this type of project because you will run the electricity underground. The project requires extensive planning and specialized tools that are generally not part of the homeowner's toolbox. Your electrician will decide the appropriate power source and the best method for routing from the power source to the outbuilding. Using an electrician is the best way to ensure that your project remains safe and is completed according to the National Electric Code (NEC).
Hot Tubs and Other Appliances
Installing a hot tub is tricky since you're combining electricity and water. It's always a good idea to have the professionals do the installation, just to make safety a priority.  
You've got to make sure that your circuit breaker panel will be able to accommodate the amperage requirements. Then, your electrician must install a spa control system box. This system box is where your controls to operate the hot tub will be located. The third requirement for your hot tub installation is that it is GFCI protected, and has an emergency disconnect that's within sight and at least five feet away. 
Other appliances that require permanent electrical fixtures can be addressed by your licensed electrician.  We receive calls like this at Haas & Sons Electric all the time, and we will be happy to serve you.
Who Should You Call For Help?
At Haas & Sons Electric, we take pride in being your neighborhood electricians. We provide excellent value and hometown service to homeowners and business owners alike throughout Anne Arundel and Howard Counties in Maryland. When you order electrical services from our company, we provide a free electrical evaluation on every call… to make sure all your electrical needs are safe and up to code. 
Our services are perfect for the new homeowner. We will go over the house and inspect any problems or necessary upgrades that need to be rectified. Contact us today, and we'll set up an appointment to come by the house soon!