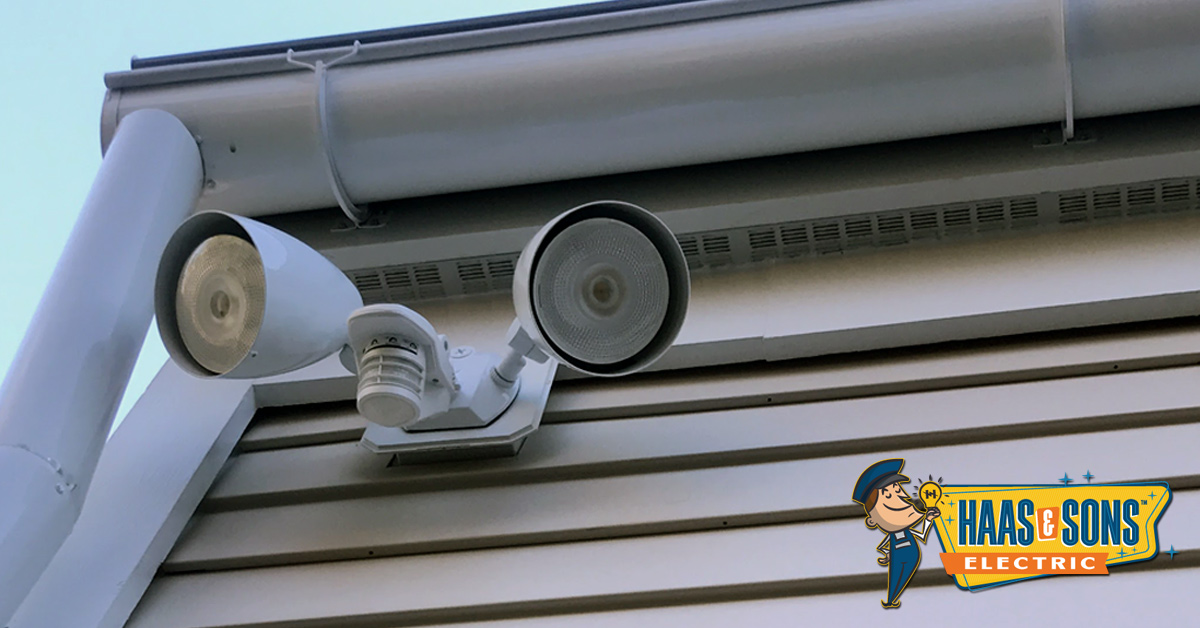 As many of us experience, the winter months can be quite a shock from our warm and bright summers, primarily due to the extended hours of darkness and the inclement weather we receive. People in our community tend to stay in more and are less observant about the comings and goings on your block. Like our friends in nature, humans kind of get into hibernation mode ourselves, but there's an exception to that rule and it can be a costly one - crime. According to a 2018 study by the University of Colorado at Boulder, violent crime rates rise in the winter months, particularly when we have mild winters like this one.
The reason homeowners need to consider adding outdoor security lighting to their property is because of the elevated risk for criminals to take advantage of your dark shadows on the exterior of your home. A dark home (or yard) is vulnerable to criminal activity, so by keeping your property well lit, you will be hedging your bets in your favor. In this month's blog post we wanted to give you the rundown on all of the things you need to know before selecting an outdoor security lighting system.
FAQ
How do motion detector lights work?
Motion detectors work by detecting infrared heat waves that pick up on movement, almost like an infrared gun scanning the area. Most motion detectors can have their sensitivity adjusted so you aren't picking up unwanted objects or animals to cause them to go off unnecessarily. Motion detectors pick up the motion best when an object goes side to side. They have a harder time determining movement when objects move towards and away.
How long do the security lights stay on?
Most security lights have adjustable timers built into them. Some can be adjusted to stay on for as little as 10 seconds with a maximum of 30 minutes. Most home owners set their security cameras to stay on between 5 to 10 minutes.
How do these lights fare in weather?
Motion lights are designed to be outdoors and in the weather. You do want to make sure you have a good gasket or seal on the top and side edges of the detector to keep water from getting into the unit. They will work well for many years when installed properly.
Are there different kinds of outdoor security lighting besides floodlights?
There are a few different types of outdoor security lights available. Flood lights are by far the most common style. You can get these with replaceable lamps or built-in LED lights. There are also spotlights that produce a much more narrow beam of light if you want to focus on a small area. Motion cameras have become very popular with homeowners. The new motion cameras work with wifi and connect to an app on your phone so you can get instant alerts and record the movement. Ring makes some of the best products we have installed.
To learn more or to schedule an outdoor lighting consultation, contact the experts at Haas & Sons today!
What Kind of Light Bulb Should I Use?
When installing outdoor security lighting, the specifics for each homeowner to choose from are quite large and expanding. We recommend using motion sensor outdoor wall lights with replaceable LED flood light bulbs that are hardwired into your home. Solar lights, while great in concept, rarely ever perform as sold. Overcast, snow, rain, and a variety of other factors can make them intermittent at best. Plus, when they begin to lose their charge their output will suffer. Conversely, hardwired LEDs should last you quite a long time, but be certain to ask about whether their bulbs are replaceable if you need to swap them out. If the manufacturer does not have replaceable bulbs then it's good to know what their warranty is and what their claim process is like.
Additionally, you'll be presented with other options, such as selecting what lumen output or the style of bulb, which are relatively benign and matter of personal preference. That said, we do want to recommend something specific and that is the Kelvin scale for outdoor use. In a previous post we discussed the Kelvin Scale and I'll reiterate it here. For outdoor and nighttime needs, you need to begin at 4,000 Kelvin. 4,000 Kelvin is the equivalent to a full moon, which is optimal for our eyes to focus and assess their surroundings at night. As you can see in the image below, the Kelvin Scale goes up to 10,000, but after 4,000 it just becomes more blue. The reason you want to avoid lower Kelvin bulbs is simply because they don't provide enough exposure or detail, particularly the further away you venture from the bulb, as they're too warm. This shouldn't be an issue for you, as a lot of manufacturers sell their units based on this same philosophy, we just wanted to make sure you knew to avoid the lower range of the scale.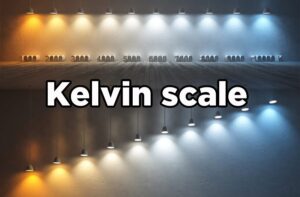 Where Should I Install Outdoor Security Lighting?
At Haas and Sons, we recommend that all outdoor security lighting be placed in all the high-risk areas of your home. What does that include? It varies for 
each property and customer, but it's a good rule of thumb to place lighting on each side of your house. We recently heard a story of a gentleman who thought he only needed lighting on the front of his house, as that's where he experienced the most traffic. Lo and behold, not even a few months later he was burglarized from a rear-facing window. While his intentions were noble, he left himself open to exploit by not installing his system on each side of the property. In his situation, the burglar saw the lighting on the front of the house, determined it was too risky and looked for a new entry spot, which happened to be this homeowner's pitch black backyard. Lesson learned, but the damage was already done. It's because of stories like this that we tell each customer to at least consider a full package for their home that shines light on:
Each exterior doorway no matter what side of the house it's on.

Purchasing motion sensor porch lights to flank your door is a great option.

All ground level windows.

Gates to your side and back yards.

Driveway, particularly if you park your vehicles out there.

Bonus tip: Don't leave your garage door openers in your vehicle if you leave them out overnight and are away from home, as a burglar can break your car's window and access your home from the clicker with ease.
Lastly, some of our customers also have us install lighting on the perimeter of their backyards, which depending on your home's location, could be a great option. For those that live around nature (dense shrubs, trees, ravines, etc.), having lights further out can alert you to when something enters your property, as opposed to when they're already at the door. As an example, if you have  livestock or outdoor pets, this could be advantageous for your alertness. We have even installed sensors at the base of the driveway to trigger ground lights to illuminate the driveway and walkway when you return home in the dark.
How High Should I Install Outdoor Security Lighting?
When installing outdoor lights, you want to make sure they are out of reach for criminal elements to tamper with them. That doesn't mean placing them just out of arm's reach, as a criminal might use a stick, broom or other tool to damage your fixtures. We recommend that all lights be placed at a minimum height of 8-12' and maximum height of about 20'. This tends to be the range where criminals have a hard time tampering with the system, but it's also a safe range for your motion sensors to still work. Most motion sensors on exterior lights have a limit of 25' for them to operate, so you don't want to push that limit too aggressively. The higher up the lights are mounted the less distance they can view.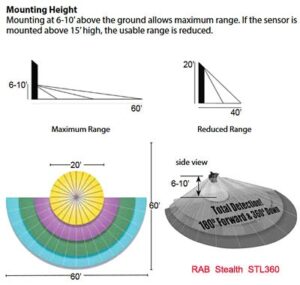 What's also nice about this height is that your lights will provide a decent amount of coverage below them. This is known as the 'light beam spread' and we were able to located this image below to help you understand how it applies to outdoor lighting:

As you can see, the most intense area will be directly below the bulb, but you'll benefit from the light dispersion as you get higher up towards that 20' threshold. This approach maximizes the space that has some amount of light, while eliminating shadows and blind spots where burglars can hide.
The Best Outdoor Motion Sensor Lights for 2023
Having motion sensors on your exterior lights is a must; there is just no way around that. Sure, you could operate a system manually, but that's going to waste a lot of electricity and it doesn't deliver the element of surprise that's so beneficial in warding off bad guys. You'd be surprised how startling it can be for a burglar to be illuminated quickly and aggressively when they were planning on the cover of darkness for their ill-gotten gains. Because of this advantage, Haas & Sons only recommends LED motion sensor lights.
RAB Lighting STL360HW 2-Head Super Stealth Sensor:
In my opinion these are the best outdoor flood lights - hands down. Nothing even comes close to the RAB STL360 line (there are a couple options to purchase that vary in their lamp styles). What's nice about the RAB system is it comes with a 360° motion sensor that actually captures motion from any angle; you can be below it, to the side, approaching or leaving. The sensor is laser sharp and has some great settings which can tailor your system to your needs. These outdoor security lights with motion sensors can detect motion upwards of 60 ft away while most others fall off around 20 ft. The lamp holders are customizable with regards to directional needs and they're fully weatherproof. Additionally, the LED flood light bulbs are replaceable without having to replace the unit, which means maintenance and upkeep will be much more friendly and affordable. Backed with a 10 year limited lifetime warranty from the manufacturer, these units average around $90 each on Amazon, which is a great deal.

Ring™ Floodlight Cam:
Ring does a great job of incorporating video monitoring to their products and their floodlight option is no different. Similarly to their doorbell, the Floodlight Cam also has a camera, but it only activates when the motion sensors pick up movement. What's nice about this set-up for some homeowners is having that extra peace of mind knowing you're also recording each movement, but it does come at a price. We've been searching and searching and we can't seem to find these for less than $250 a unit, which can add up. Because of this, we like to recommend this unit for a homeowner's rear of the home at a minimal or every side for added security.
As with all Ring brand products, the Floodlight Cam comes with access to their app, which provides the homeowners with a bunch of controls and notifications. The Floodlight Cam can also produce an audible siren too, which can help aide in deterring criminal activity.
These units connect to the homes WiFi system to allow for live video surveillance. We suggest checking your WiFi signal strength in areas you want to install these with your phone. Weak signals can cause dropped connections. You may need to consider WiFi boosters.
One final note of caution, and we hope this changes in time, but Ring does not sell replacement LED light bulbs for this unit in the event they malfunction or burn out. My hopes are that Ring will realize what a hindrance that is for their customers, but as of now their response is that "they will replace the bulbs on a case by case basis." Considering LED diodes tend to last 50,000 hours and this unit won't be left on indefinitely, it might not be a problem for you, but we wanted to share it with you nonetheless.

Defiant - The Home Depot brand Motion Sensor Lights:
Defiant is The Home Depot's security lighting in-house brand and The Home Depot is actually America's #1 outdoor and security lighting retailer, so Defiant is one of the more common options for homeowners. They offer a variety of different models to choose from, but keeping with our tone, I'd like to recommend the 180-Degree White Motion Activated Outdoor Flood Light, because they have a decent view angle and replaceable lamps. At under $30 per unit, this option is very affordable to install and it's clear why so many households in America use this brand, as it's maintenance is a breeze. This unit doesn't come with an app or a video camera, but it will certainly work for most household needs and with a lower price point can be a great option for those with a lot of perimeter to light.

Conclusion
Now that we've shared our approach and recommendations, we wanted to give you a final bit of information to consider before calling us to install your new lighting system.  Motion sensor lights work in a fairly simple manner. The motion sensor works by picking up on thermal heat movement. This means when something warmer than the surrounding environment passes in front of the light it should activate. They tend to operate the most consistently when objects move from left to right or vice versa, however, many perform equally-well with movement coming towards or away from them. For most systems, selecting the medium setting is ideal for human visitors. If you have it set for smaller movement, you'll likely get annoyed at its frequency of alerts. Conversely, setting it for the largest movements will likely miss some of the humans you'd wish would have triggered it.  
It's also best to avoid placing a motion sensor next to your dryer exhaust vent, your furnace exhaust or your A/C unit. All of these appliances produce a lot of energy and warmth, which can have phantom alerts for your system.
As you can see, there are a lot of variables and technical aspects that are involved with installing a comprehensive outdoor security lighting system. It's because of this that we tend to only recommend that experienced electrical DIYers attempt this, but in reality, it's probably best to call a professional electrician for outdoor lighting installations. We can save you a lot of headaches and eliminate the safety concerns you might not be privy to.
FAQ