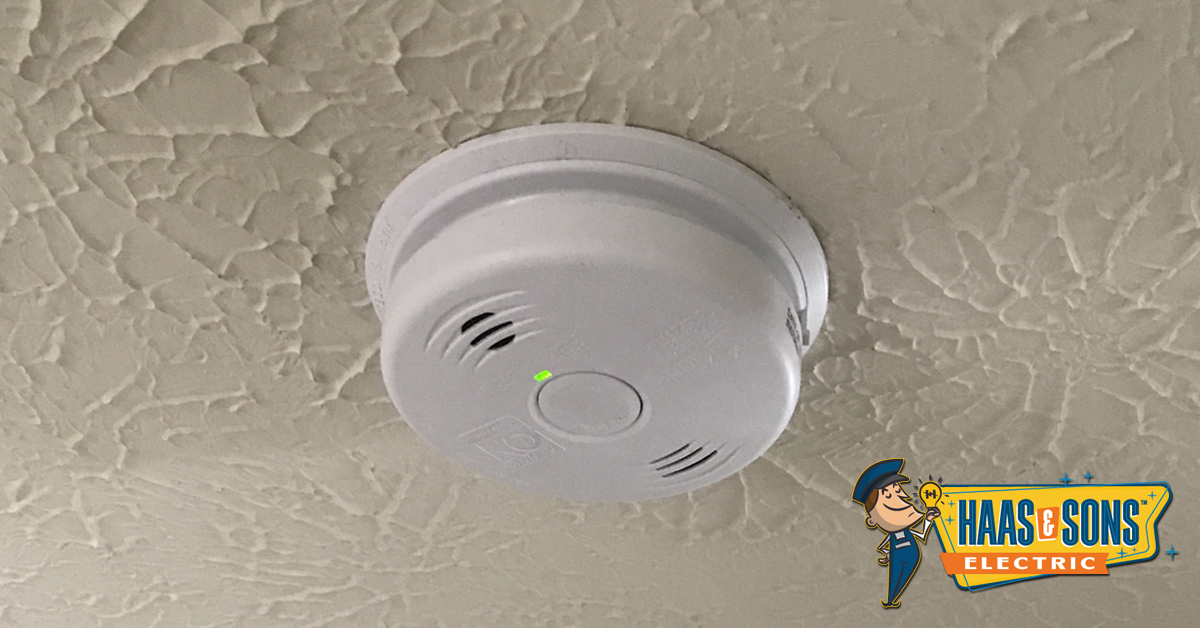 We've all experienced this situation; you're enjoying your day doing something routine in your home when out of nowhere you hear the piercing call of a long-forgotten device - CHIRP!! - and then you realize it's time to play Marco Polo and find the culprit.
We're talking about smoke and carbon monoxide (CO) alarms going bad and needing replacement and it's something that all homeowners will experience many times in their life.
At Haas & Sons, we regularly visit customers to help them install new units to keep their homes and family members safe from fire and CO. Below we'll discuss a variety of topics related to these devices, the current Maryland requirements, some recommendations on where to install, and what types to buy.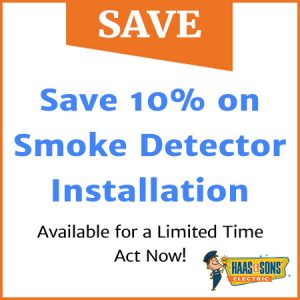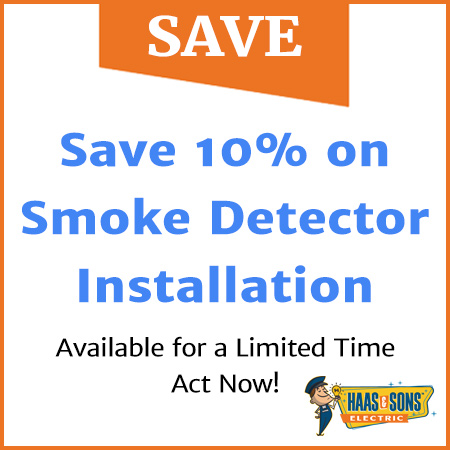 How Do Smoke & CO Alarms Work? Do I Need Them?
Smoke and CO alarms are convenient devices that are installed in various locations in a home to alert the inhabitants of escalating fire hazards or the build-up of potential dangerous carbon monoxide (CO).
Most commonly, you will find these units near places in the home where people sleep, as many accidents related to fire and CO are compounded by the fact that sleeping people often react to the threat much more slowly than someone who might be awake and alert (we'll go into specific location recommendations soon).
To combat this scenario, the Maryland Smoke Alarm Law was passed in 2013 and it requires homes with battery-powered smoke alarms to have newer tamper-resistant alarms installed by Jan. 1, 2018. Prior to this law going into effect, Maryland property owners were able to use any type of alarms that they like, which would commonly vary in their life-expectancy due to what battery was used.
However, now you must install what is considered a 10-year sealed and tamper-resistant unit that cannot have the battery removed without replacing the unit entirely.
The reason that Maryland enacted this law was due to an alarming (no pun intended) amount of incidents where homes, property or lives were lost due to homeowners completely disconnecting their existing alarms or not replacing a dead battery.
While the outcome of loss of life was not intentional, nearly all of these situations were completely avoidable had the homeowner simply maintained their units properly. In response, Maryland legislators decided to take that decision out of the hands of the homeowners and regulate it. Considering having an operational alarm in your home cuts your chance of dying by half, it's no wonder this became such an important initiative for the State.
Guidelines for Where to Install These Alarms in My Home:
For the ease of explaining the specifics of where you need to place smoke alarms, we'll only address residential properties, as opposed to commercial buildings or large institutions. For Maryland homeowners, you have to place your alarms in the following locations:
One (1) in every bedroom

One (1) for the hallway/s leading to bedrooms

One (1) on each floor/level of your home

Not within 3 feet of a return duct, bathroom (humidity issues) or attic-entry (dust issues)
"Hey, don't I need one in the kitchen too?" Actually, we advise not to install a smoke alarm in the kitchen, because it will often be triggered by cooking smoke/exhaust, as opposed to an actual threat. In the event you do you have a fire in your kitchen and you're not there (in reality you should always be in your kitchen if you're cooking), your alarms on that floor or in the hallways leading to the bedrooms will alert you to the hazard.
Regarding the presence of CO alarms, believe it or not, Maryland is 1 of 32 states that places some legal requirement on property owners to have CO alarms installed. All new construction projects, some types of remodels/renovations, and properties that have fossil fuels present (such as oil heating systems or storage in garages) must have a CO alarm present.
If you happen to be in this category of homeowner where you're required to have both smoke and CO alarms, it's often best to purchase a unit that's a combination alarm, which leads us to our next topic wonderfully…
Types of Smoke & CO Alarms:
There aren't that many different types of alarms on the market for you to choose from, but the differences are significant enough to warrant consideration on which will be the best fit for each location in your home.
Ionisation Smoke Alarm:
Ionisation smoke alarms are what most Americans are familiar with, as these are by far the most popular option. Ionisation alarms are ideal for detecting rapid burning fires, which can be the most destructive and surprising for homeowners.
These are the types of fires that start and grow quickly, such as an electrical short, appliance failure or external factors. These units work when a fire breaks out and the smoke enters the ionisation chambers on the alarm, which in turn change the current of the unit and this sounds the alarm. This type of alarm would not be ideal near a kitchen, as we mentioned, due to false alarms.
Photoelectric Smoke Alarm:
Photoelectric smoke alarms are less commonly known, but they serve a great purpose, which is to alert a homeowner of a slow-moving or smoldering fire. While most homes will use ionisation alarms throughout, some homeowners elect to install a photoelectric alarm in their bedrooms.
The reasoning behind this methodology is particularly relevant if you regularly smoke in bed or utilize a space heater while sleeping. These alarms are less likely to trip due to insubstantial smoke, but will sound when thicker smoke approaches them. These units operate by utilizing a light-sensitive sensor, which under normal circumstances, experiences no change throughout the day.
However, if a fire is present the smoke particles will enter the unit, agitating and scattering the light within the sensor, thus resulting in the triggering of the alarm.
Dual Sensing Photoelectric & Ionisation Smoke Alarms:
As you can tell, photoelectric and ionization smoke alarms utilize differentiating technologies to achieve the same goal, which is notification of smoke being present. Because all fires are different, it can be difficult to select the appropriate alarm for any given surrounding area.
That's why we often recommend that homeowners seek to install dual smoke alarms that combine both technologies. In theory, one type of fire would trigger one of the technologies, whereas the other style fire would trigger the other technology.
Carbon Monoxide (CO) Alarms:
CO alarms aren't as heavily regulated as smoke alarms, but that's quickly changing, as noted above where we mention that 32 states have enacted statutes and 11 other states have expressed support for future laws.
At Haas & Sons, we think CO alarms are a must for any home and that's because of the silent, scentless, and invisible dangers of carbon monoxide poisoning. CO poisoning is often attributed to faulty furnaces, heaters, wood-burning stoves, gasoline-powered tools, propane-fueled equipment, and vehicle exhaust.
While CO poisoning doesn't always results in death, it can most certainly claim the lives of those who don't notice the onsetting symptoms, which commonly occurs during sleep.  CO alarms function very similar to smoke alarms, but they monitor the parts per million of carbon monoxide in the air and when it surpasses a certain threshold the alarm will sound.
Smoke + CO Combination Alarms:
Although these units might cost a little more, it's so much more convenient to have a combination alarm in your home. This alleviates the need to install (and hardwire in certain places) multiple alarms doing separate jobs. If you're replacing your previous units and have the spare change to opt for these units, we assure you they'll be the more convenient and an all encompassing option.  
What are the Best Brands for Smoke & CO Alarms?
Like many household products, there are just too many options out there for your selection. To make things easier for our neighbors in Pasadena, we wanted to recommend 3 brands for your consideration: Kidde, First Alert, and BRK®.
Kidde is one of most popular manufacturers of smoke and CO alarms in North America (and other fire safety devices like escape ladders and fire extinguishers). They sell everything from standalone units, hardwired units, combinations, and so on. You can find their products at nearly any homegoods or hardware store, in addition to many online outlets. Fun little fact, Kidde has been operating since 1917 in the United States as a fire prevention and detection company.
First Alert is quite similar to Kidde in the sense that they're popular, trusted, and well-diversified in offering a variety of fire safety products. As a professional electrician in Anne Arundel County, we really don't have a preference on which of these brands you use.
Home Depot carries more Kidde brand products, whereas Lowe's and Ace Hardware carry more First Alert products. Since both brands offer a similar selection in product offerings, typically homeowners will choose one based on their preferred store.
The final brand that we see fairly regularly is BRK®. What differentiates BRK® from the other two brands is their popularity with home builders and contractors during new construction. You can find BRK® alarms at the store, but the physical selection will almost certainly be limited, which is where Kidde and First Alert gain customers. Builders and contractors tend to order their BRK® alarms direct or through wholesalers, which is why they're less known, but equally good.
Do I Need an Electrician to Install or Replace My Alarms?
Considering all homes that have been built since 1978 are required to have interconnected and hardwired alarms (at least 1 on each level of the house), it's wise to call a professional. Additionally, we're used to climbing up ladders to reach hard to access locations, which is where you'll often find an alarm present (high vaulted ceiling, in stairwells, etc).
We install and replace smoke/CO alarms very regularly, so don't think it's 'too small' to warrant a visit. We'd much rather see you for 15 minutes and know your home is protected than have you go without functioning alarms in your home.
What is the new smoke detector law in Maryland?
As of January 1, 2018, Maryland law requires all residents to have lithium battery tamper resistant smoke alarms installed in every level of their homes. The law was enacted to help prevent deaths resulting from older fire alarms with dead batteries. The tamper-resistant models are sealed to prevent a homeowner from removing the battery. They also include a "hush" button as a temporary feature for the times when the alarm goes off but it is not an emergency.
Are carbon monoxide detectors required in Maryland?
While not required by law in Maryland, at Haas & Sons we believe that carbon monoxide detectors should be in every home in the state. Carbon monoxide is clear and scentless, and comes from faulty furnaces, wood-burning stoves, gasoline-powered tools, propane-fueled equipment and car exhaust.
What is the best combination of smoke and carbon monoxide detector?
There are many good brands of combination smoke and carbon monoxide alarms on the market today. The brands that really stand out that we recommend at Haas & Sons are Kidde, First Alert and BRK. We provide quick and easy installation services on combination alarms guaranteed to keep you and your family safe. Contact us to learn more about requirements or to get on our schedule today!
Where should I place a carbon monoxide detector?
Carbon monoxide detectors should be placed on the wall at least 5 feet above the ground or on the ceiling. Carbon monoxide gas is light and can be found with rising air which is why it is important to place them higher up. Do not place detectors next to or above a fireplace, however, as it could trigger false alarms.
For more questions please do not hesitate to contact the expert team members at Haas & Sons today!