Electric Vehicle Charging Station Installation
Let Haas & Sons Electric be your go-to car charger installation experts in Pasadena and nearby MD. Fill out the form below, or call us 24/7 for a consultation for electric car charger installation near you.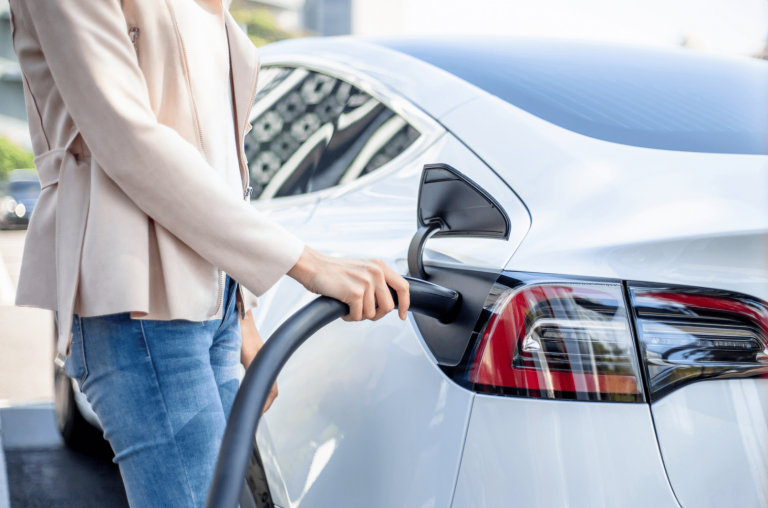 Expert Car Charger Installation at Your Home
Scroll through some photos of car charger installation projects in Pasadena MD and nearby areas. Our EV charging station home installation is for every type of electric vehicle, including Tesla chargers, BMW EV chargers, and more.
What is a Home Car Charging System for Electric Vehicles?
Believe it or not, there really isn't such a thing as a 'home charging station or system'. This is because an electric vehicle charger is actually within the on-board components of the vehicle. So while you and your friends might be saying 'home charger' the proper term is actually 'Electric Vehicle Service Equipment' or 'EVSE' for short. The reason an EV owner needs a EVSE is that your existing home electrical system is most likely not outfitted to charge an EV. In short, the EVSE allows your home's electrical system to work with the EV in a safe and efficient way for regular and consistent charging.
Checklist for Choosing the Right Electric Car Charger
The biggest issues with most homes are that they're wired for smaller appliances that can't handle the energy needs of an EVSE and many weren't built with EVs in mind, so sometimes we have to upgrade or replace the main electrical panel. Additionally, the manufacturers of EVSEs all vary on their features and options, so think long-term here. Consider the following before you buy anything:
Electric Vehicle Supply Equipment (EVSE) Costs:
It's safe to say that a reliable EVSE unit will start around $500 and go up from there. Depending on the system's capabilities (listed below) and additional features you might select, the higher the price can be. It's also worth mentioning that the amperage capabilities of the EVSE will affect the price, because as amps go up, the system costs more. There's a big difference between the most basic 20 amp EVSE and Tesla's behemoth 100 amp system. Please note that this does not include installation, so if you need a professional electrician in Annapolis for help, call Haas & Sons.
Volts Needed for an EVSE:
Level 1 chargers use 120 volts and level 2 chargers use 240 volts. Nearly all homes in Maryland are capable of providing 120 volts and 240 volts. With either level charger, we recommend to have a dedicated circuit installed so it won't cause issues with other areas of your home.
Amperage Needs for an EVSE:
Amperage of your EVSE impacts your rate of charge, so it's suggested to get one that's 40-50 amps. Smaller level 2 EVSEs only require 30 amps, but as technology changes and different models of EVs are released, it's safe to assume that 50 amps is the new standard, so save yourself on future upgrade costs. Plus, this allows for faster charging on vehicles that can accept higher amps.
You might need to 'heavy up' or replace your existing electric panel (the breaker box) to add an electric vehicle charging station. A lot of older homes in Maryland were designed with only 100 amp main electrical panels and when adding 30-50 amp of use from your EV charger, we may need to upgrade to 150 amps or 200 amps. Additionally, as EVs become even more popular than they are now, this is a good investment for selling your home down the line, as it will be EV-compatible on the MLS.
EVSE Location & Cable Length:
Make sure you select a location that's accessible for your EV. Consider cable length in this step, as most EVSEs come with a connecting cable that is 8 to 25 feet in length. That's a big difference, so if you're installing an EVSE on a pedestal outside or around the back of your garage, that cable can be used quickly. Consider all scenarios when looking for a permanent location of your EVSE and which one you buy.
EVSE Add-On Features:
Living in the age of on-demand products and services, one might think that having all the bells and whistles on their EVSE would be the route to go, but we'd like to exercise some words of caution. Although it sounds really cool to have a touchscreen EVSE that has timers, usage meters, monitoring capabilities from your phone, and more, each of those additions comes with problems. One of the major ones is if you experience a loss of internet connectivity. In that situation, if you had a smart EVSE, you would be without the ability to charge. Additionally, each time you add a new feature to your EVSE you're increasing the cost and in many situations, creating redundancy, as many of these cars come with apps and in-car tech for diagnosing performance.
EVSE Safety Precaution:
Last but not least, be certain that your EVSE comes standard with a built-in GFCI (ground-fault circuit interrupter) protection. This will protect you and your family from accidental shocks, which could occur if the EVSE didn't have grounding protections. There would be nothing worse than going to enter your vehicle and being shocked badly or permanently hurt, so make sure it's protected.
Top 3 Electric Vehicle Charging Station Installation Choices:
As we mentioned above, we've had the opportunity to install many EVSEs and we've learned which ones require us to come back for servicing and which ones last without issue. In no particular order, our Top 3 recommendations are: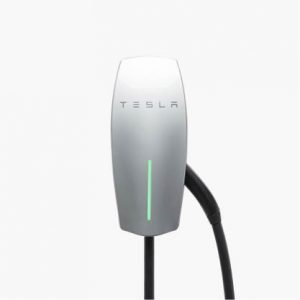 Tesla Charger Installation:
It would be difficult to talk about EVs and EVSEs without mentioning Tesla. Tesla has done an exceptional job with making electrical sexy, fast, and fun. Their EVSE is no different. Starting at $500, the Tesla Wall Connector is a no-brainer for the Tesla owner, but it should also be considered for the other EV drivers out there. Tesla currently offers one unit that is hardwired and uses up to 48 amps at 240 volts. They also offer the fastest recharge speeds, so if you're pushing your vehicle's range limits often, this would be the product for you! The main unit comes with a 4 year warranty and accessories have a 1 year. Unfortunately, Tesla does require you to purchase additional components separately, such as cable management fixtures, adaptors, and longer cables.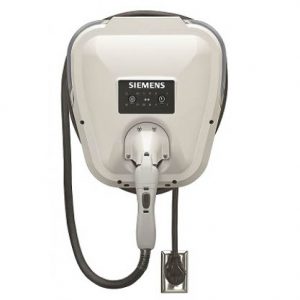 Siemens VersiCharge:
If you don't own a Tesla, the Siemens VersiCharge is a great option for most EV owners. The VersiCharge is a bit more expensive than the Tesla Wall Connector but it's also really versatile and an all-in-one package. The VersiCharge doesn't try to upsell you on anything, instead they just offer you everything from the start. It comes with built-in cable management, a 20 foot cable standard, and it can plug directly into a NEMA 6-50 outlet (same as a clothes dryer). This unit comes with a 3-year warranty and offers universal compatibility.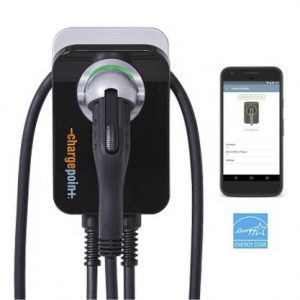 ChargePoint:
The ChargePoint  Home Flex EVSE is the most-costly option starting at $699, but it's availability is effecting the price. The ChargePoint is the second most popular charging station we install next to Teslas. It is one of the more powerful chargers on the market too with a max of 37 miles per hour when set on 50 amps. It's Energy Star Certified, Amazon Alexa compatible, has an app for scheduling and monitoring of charging, it offers reminders and notifications, it's compatible with all makes of EV, and it's noticeably smaller than other options. Overall, it's a great smart device!
JuiceBox:
The JuiceBox 40 unit is also common for us to install. It is not as powerful as the ChargePoint, with only a 40 amp capability. They do make a JuiceBox 48 but it has been out of stock for months. It does have all the features you'd expect from a charger- wifi, works with alexa, scheduling, notifications, among other features. These units also have a starting point in the $600 range and can be found on Amazon.
Is an Electrician Needed to Install an EV Charging Station at Home?
Yes, you should always have a licensed electrician do wiring in your home. As with many household projects, a question comes up often at Haas & Sons and that is, "Do I need an electrician to install my EVSE and if so, how much will it cost me?" To answer that, let's begin with addressing why an electrician should be considered for all households.
Like many household electrical projects, we all get the idea that we can do this and we try the DIY route. Big warning to all our customers: do not try this on your own. The risk of harming yourself or damaging expensive items is too great for a novice to randomly try this trade. Also note that most insurance companies do not cover claims when something is not installed by a licensed professional. If you merely have to swap an outlet, then sure, research it and give it a try. However, as you've seen above, there is the potential for a lot of steps and customization along the way depending on your set-up and the unit purchased. Also, in some municipalities, they require properly secured permits and a visit from an inspector to finalize this project, which is something only a licensed electrician can aquire. An established electrician can navigate the county's needs and all the technical steps of the install.
How Much Does Installing a Home Car Charging Station Cost?
Many homeowners enjoy the ease of having an electrician come out and install their new EVSE. On average, installing an EVSE will run you between $800 and we've done some over $4000. The benefits of going with a local electrician over a 'recommended installer' from your EVSE manufacturer are the local electricians know the codes for your area, the layout of the home, and aren't some out of state company. Additionally, it's always nice to have a sole-contact for all your household electrical needs. Plus, it's nice having an easily-accessible local contact versus having to call in a large corporation each time you need advice or electrical repairs.