Home Inspection Corrections- Electrical
When you are looking to buy a new home near Pasadena, MD, an electrical safety inspection can help you make the most informed decision.
During the purchase process, a home inspection is one of the many requirements.  The home inspector will go through the home to make sure everything is in order.  The home must pass inspection before your settlement can take place. However, this inspection is limited, and most home inspectors are not licensed electricians.
AN ELECTRICIAN'S ROLE IN THE BUYING OR SELLING PROCESS
As an electrician, I am often asked to perform electrical inspections and/or to
fix the items on the home inspection report
. Although a home inspector is trained to inspect homes and help buyers find any issues in the home before they go to settlement, many do not have a good electrical background and often miss important details. Also, most home inspectors don't have the ability or the authority to fix the electrical problems they do come across.
In addition, while a home inspector may be able to tell you that the home is up to code, in many instances what they are telling you is that it is up to code
for the time period in which it is built
. This is because houses are grandfathered into the year the house was built and are not required to be up to code.  However, there is a reason behind the updates to code.  Most often it is because of safety. This is why it is a good idea to have a separate electrician safety inspection performed by a
master electrician
before settlement. We recommend that you have an inspection for safety, an inspection that doesn't just tell you whether your home is up to code but whether your home is actually safe.
WHY DO YOU NEED AN ELECTRICAL SAFETY INSPECTION?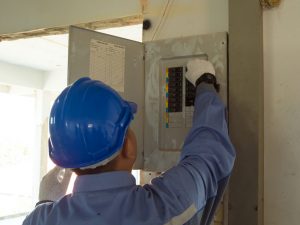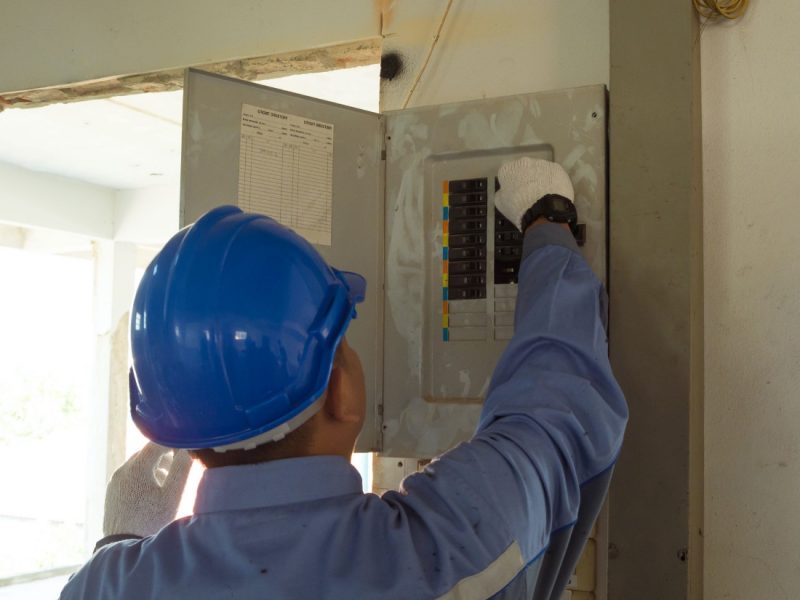 In some instances the home is simply aging, wires have heated up over the years, connections have loosened, and rust is setting in.  However, the bigger issue we find is the trend towards DIY home improvements over the past decade.  While many people are capable of making some minor changes, such as adding a fan or changing an outlet, some have bitten off more than they can chew.  Often during these inspections, we find loose wires, open slices, or overloaded panel boxes.  These are not necessarily found during the standard home inspection and can lead to shortages or worse yet fires down the road.
At Haas and Sons Electric, we perform two separate types of electrical inspection.
BASIC ELECTRICAL SAFETY INSPECTION
Our basic electrical safety inspection is a service in which we make sure your safety devices meet current standards.  This inspection includes checking your smoke detectors to make sure that they are not expired and are working correctly.  If your smoke detectors are more than 10 years old they should be replaced.  We can do this for you.
During this basic inspection, we also check that the GFCI protection in the kitchen, bathroom, outside, in the garage, basement, and any other areas near water are working correctly.  In the case of outdoor outlets, we make sure they are still covered and that the waterproof cover is still doing its job.
And finally, we inspect your electric circuit panel.  We look for rust, corrosion, and bare live wires.  We check to make sure the panel is properly grounded and look for double tapped breakers, over-fused circuits, and that the wires are safely entering the panel and terminated.
Because electrical safety in Pasadena, MD is our focus every day we also check for anything else in your home that may indicate an electrical problem.  This is where a trained eye can make all the difference.
WHOLE HOUSE ELECTRICAL SAFETY INSPECTION
The second sort of electrical safety inspection we perform is a whole house inspection.  During a whole house inspection, we test every outlet to make sure it is working correctly.  We test each GFCI outlet to ensure proper function and note any that are not in place.
We test all fixtures, including lights and fans to make sure they are working properly. We check the electrical circuit panel box for any signs of aging including rust and corrosion.  We check that it is properly grounded.  We check for proper terminations, make sure that the breaker size is in accordance with the wire size, check for double breakers, and check the condition of the main power cable.
Finally, we check the attic for wiring, open slices, missing junction boxes, improper terminations, and we check the
recess lighting
insulation.
With this inspection, we give the homeowner an official write-up of any and all issues that were found.  However, if the homeowner is available at the time of the inspection, we feel it is important for them to see these issues first hand.  We make sure to show you exactly what we find as we find it.
When we buy a house we are buying so much more than the walls, the rooms, and a yard.  We are buying a home for our families.  We are buying comfort and security.  Getting an electrical safety inspection prior to settlement can give you that peace of mind you might not otherwise have.  Call us today to schedule your inspection -
443-396-3797
.
What Our Happy Clients Have to Say On Google
Alex was a great tech, was helpful and informative. Laid out all the options I needed to get the inspection repairs completed. Cleared the schedule to get my job completed right away. Great experience overall.
Lee H.
⭐⭐⭐⭐⭐
See our 4.9 rating and read more of our 524+ reviews on Google.