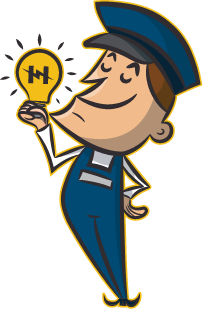 $50 Off

GFCI Installation or Replacement
GFCI outlets are essential for keeping your home safe and up to code. They're designed to protect you from electrical shocks and prevent electrical fires. If your outlets are old, damaged, or not functioning properly, they could be putting you at risk. Get $50 off any GFCI installation or replacement when you book now!
So you just had a home inspection and have a few electrical items on your to-do list to get taken care of and you're looking for electricians that specialize in old homes to get these taken care of. Call Haas & Sons today so you can sell your home tomorrow. We use digital receipts that are easy to forward to your realtor so to not hold up closing. 
On This Page:
Here are the top 9 items that commonly need to be addressed when selling a home. 
Outlets not grounded

Reverse polarity of outlets

Certify the electrical panel

CSST flexible gas piping

Double tapped neutrals

Double tapped breaker

Missing GFCI protection

Replace service cable from the street
Correcting Outlets That Are Not Grounded 
All three-prong outlets are to be grounded, that's the round prong on a cord. This protects you from being shocked by a piece of equipment and allows plug-in surge protectors to work. Depending on the age of the home and how the wiring was installed, this varies in what the repairs look like. One on hand the electrical box may be grounded in which we will install a jumper wire from the box to the receptacle and sometimes there is no ground wire present in the wiring. For those cases, we can either re-wire that section with new wiring or install Ground Fault Protection (GFCI). If we install GFCI protection, then we must label the receptacles as "Ground Fault Protected, No Equipment Ground" to meet code requirements.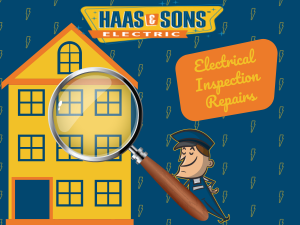 Backward Wiring - Reverse Polarity of Outlets
The reverse polarity of an outlet means the outlet was wired backward. Basically the hot and negative (neutral) are on the wrong side of the outlet. We typically find this after a homeowner or handyman that didn't know any better attempted to replace some of the outlets in the home. Outlets (receptacles) have two vertical slots and a circle hole in the ground. Luckily your appliances don't care if the power is wired forward or backward, but it does pose an electrical shock hazard when wired backward. Also, some surge protectors and battery backups will not work properly when connected to reverse polarity.
Certification of An Old or Suspicious Electrical Panel
When we get this request it is almost always because the electrical panel is old, outdated, and or a known dangerous brand such as Federal Pacific Electric (FPE) or Zinzco. Electrical panels need to be replaced every 250-30 years to ensure that they are in good working order to protect you and your home. As they age different things can happen to them. Corrosion can set in, breaker can either not trip when they are supposed to or trip well before they need to. We also want to make sure that the system is properly grounded. Over time, these grounding methods have changed a bit. Old grounding can deteriorate over time or be accidentally removed during a renovation or repair. 
FPE and Zinzo are two brands of electrical panels that have been deemed unsafe and FPE even lost its safety rating (product listing) due to falsifying the tests. Both of these brands are well known for the breakers not tripping at all when there is too much electricity being used. For example, a 15 amp breaker should trip shortly after 18 amps of electricity is being used. These brands can often allow well over 25 amps of electrical before tripping off. This leads to wires and connections overheating and catching fire. 
If you have an FPE or Zinzo contact us today for a free quote to make your home. Contact us immediately. 
Grounding CSST Flexible Gas Piping
CSST is yellow flexible gas piping that is used to provide gas to your appliances such as water heater, furnace, stove, fireplace, and more. 
Why do I need to ground the CSST?


CSST is known for cracking, breaking, or even exploding when there is a nearby lightning strike. A lightning strike can cause a surge through the gas piping system. We have to ground the gas system so that surge is properly grounded out and does not damage the structural integrity of the CSST piping system.

Where do you ground CSST?


The best place is at the gas meter. The next acceptable place is if there is a gas manifold (diverter) or a change over from hard pipe to flexible. This ground wire must be run to the nearest electrical panel, with preference to the main electrical panel if you happen to have sub-panels. 
Fixing Double Tapped Neutrals
A double-tapped neutral is when you have more than one wire under a screw terminal on the neutral bar. This is a direct infraction with the manufacture of the electrical panel. Every manufacturer states you may only have one neutral wire per screw terminal. Having multiple wires under one terminal can lead to overheating, connection becoming loose, and is a danger when servicing the electrical panel. 
Repairing Double Tapped Breakers
A double-tapped breaker is when you have more than one wire attached to the breaker. Each wire should be on its own circuit breaker. When they are double-tapped, you have two separate circuits sharing one breaker which can lead to overloading, nuisance tripping, and/or overheating. Currently, Square D is the only manufacturer that is designed to allow (2) wires to be installed on some of their breakers. 
The double tapped breaker issue is fixed by installing additional breakers in your electrical panel and separating the wiring so that there is only one wire per circuit breaker. In some cases, if the panel is full we may be able to use tandem breakers. Unfortunately, not all panels allow for these breakers. In rare cases, we may have to look at other solutions to correct this issue. 
Placing Missing GFCI protection
Ground fault circuit interrupts or GFCI protection is required near all water sources and unfinished areas. This includes areas like the kitchen, bathroom, exterior, utility room, garage, and basement. Many older homes, pre-1978 don't have any GFCI protection at all since it wasn't required back then. Now we have to identify the areas that are required by electrical code and install either GFCI receptacles or breakers. 
Street-To-Meter Service Cable Replacement 
Your service cable is the wire coming from your power provider, to the meter, and inside to the electrical panel. For BGE residents, the homeowner owns all the cabling coming from the meter can- the wire going to the electrical panel and if you have wire going up the peak of your home. For Pepco residents, you also own the meter can. So if that needs replacing, you're on the hook for it too.
Over years of being outside these cables become weathered, they crack, dry-rot, deteriorate, corrode, and sometimes they allow water to drip into the electrical panel itself. 
If your cable is cracking, it's time to have it replaced. We do need to pull a county permit and involve the power company to perform this replacement. The whole process from start to finish can take several weeks depending on the power company's turnaround time. So if you can see yours needs to be replaced, do it now so that it doesn't possibly hold up your closing.
5 Tactics to Mitigate Aluminum Wiring In The Home
Homes built between 1965 and 1975 will most likely have aluminum wiring in some or the whole of the house. Aluminum wiring gets called to special attention because of its failure rate. Aluminum wiring is prone to failing most commonly from corrosion and connections becoming loose. 
There are a few remedies for homes with aluminum wiring. 
The best of these is to

rewire the home

, but not everyone has a budget for this as it runs tens of thousands. It requires making a lot of holes in the ceilings and walls to remove the old wiring and install new.

The second best option is to convert the ends to copper as all modern devices are only designed to be attached to copper wiring. This can be achieved by using very expensive crimp connections called COPALUM. The technician must be certified on how to use this special crimper and rent it from the manufacturer. This makes the expense very high also and not many companies have a technician certified.
The third option is using the Alumiconn connectors. Alumiconn connectors have a screw terminal for each wire and provide a great connection that lasts without overheating or becoming loose. These are very labor-intensive to install and can be difficult to fit in shallow boxes.
The fourth option is to use the copper to aluminum rated wire nuts which are purple in color. The Consumer Product Safety Commission as well as Haas and Sons Electric does not recommend these as a permanent solution. In many cases, we have seen these wire nuts not tightened properly which leads to overheating, melting, and fires. These should be used as an emergency repair only and a better method used soon after for a permanent repair.
The fifth and last option, which is no longer code compliant, is to replace the devices with copper/ aluminum ratings. Leviton makes receptacles and switches that are dual rated but the receptacles don't meet the requirements of also being tamper-resistant (child proof). That has been a code requirement for over 10 years which leaves this method one that cannot be offered.
If you're looking for a home electrical inspection in or near Pasadena, MD, or if you need some things corrected after an inspection - let the highly-rated team of experts at Haas and Sons help.  Contact us today for an estimate!
What a Happy Client Says About Haas and Sons on Google
Alex was a great tech, was helpful and informative. Laid out all the options I needed to get the inspection repairs completed. Cleared the schedule to get my job completed right away. Great experience overall.

Lee H.
⭐⭐⭐⭐⭐
See our 4.9 rating and read more of our 524+ reviews on Google.