We Provide Lighting and Appliances To Servers And Security
As a small business owner, Chris Haas is especially sensitive to the needs of other small business owners. Whether you need a full lighting or electrical design or need an electrician to help troubleshoot a problem that is holding you and your staff back, Haas & Sons can help. Our fully-licensed technicians are ready to get you up and running.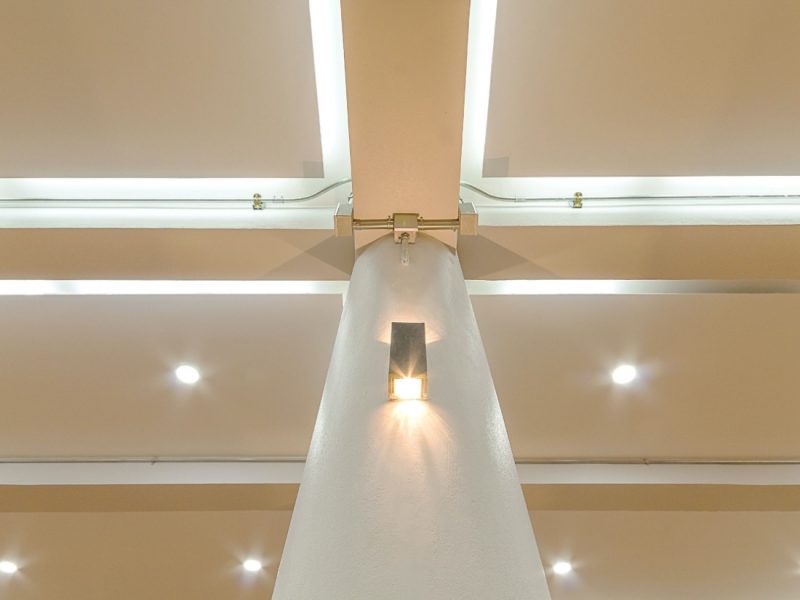 What We Do:
LED RETRO FIT
Save up to 80% on lighting consumption for your business with this one simple change. LED lighting is a much more efficient way to light a large space. In addition to saving money on your electric bill, you will save money and time on costly repairs down the road.
WE CAN GIVE YOU MORE POWER!
If you are adding more equipment in your business, chances are you are using more power. Don't risk losing time or money due to overloaded circuits. Let Haas and Sons add dedicated circuits for your new equipment.
GENERAL MAINTENANCE AND REPAIR
Even small electrical problems such as outlets, plugs, and faulty light bulbs can cost a small business money. Power loss can be even worse. Don't let another day go by with these aggravations. From troubleshooting to bulb and ballast replacement to repairs, Haas and Sons Electric can help. Call today for an estimate.
5-Year Service Guarantee
Our quality service and superior materials, coupled with the many permanent and energy-efficient solutions designed specifically for your business, will make all the difference in keeping your overhead and maintenance costs low and profits healthy. And, as with all of our work, our commercial services carry a 5-year service guarantee.
Here Are Some Frequently Asked Questions About Commercial Electricians:
What is a commercial electrician?
A commercial electrician is simply an electrician who tends to work on businesses, restaurants or institutions, as opposed to residential properties. While most electric work entails the same processes and skills, the codes that we must follow are drastically different from commercial to residential. Even in the field of commercial electrician there are still different sub categories such as service, maintenance, interior, exterior lighting, and new construction.
What's the difference between a commercial and industrial electrician?
The primary difference between these two electricians is their work environment. A commercial electrician will typically work on commercial buildings, such as standalone businesses, restaurants, retail malls, and similar. Whereas an industrial electrician will work in manufacturing plants and production facilities with very specialized equipment and systems. Haas & Sons Electric offers a variety of commercial services and limited industrial services.
What Our Happy Electrician Clients Have to Say on Google
This company is great. I could tell they really valued my business by how they made sure to send a technician out as soon as possible for a fairly minor issue. Nicholas was very competent and professional. I will definitely use them again if I have any electrical problems.

Amy S.
⭐⭐⭐⭐⭐
We're proud of our 4.9 rating across 524+ reviews on Google