Are you looking to update the lighting in your home in Pasadena, or in Anne Arundel or Howard Counties? Our team of residential electricians is nearby and can help.  
Finding a knowledgeable, trustworthy, and neat electrician near you can be a challenging task.  There are countless residential electricians advertised in Google, and knowing who to choose can be daunting.  Let us help.  Look no further than the team here at Haas and Sons.  We handle all types of residential electrical services promptly, on time, within the agreed-upon budget.  Here are just a few things we can help with around the house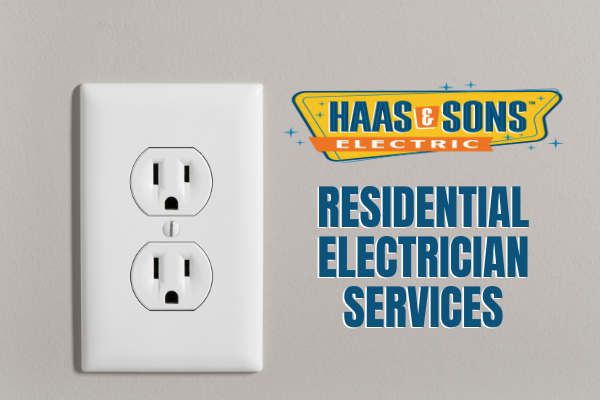 Install an Outlet
It seems like there is never an outlet exactly where you need it.  You may want a new plug-in above your counter for an appliance, in your office for your computer, or even in your garage.  Newer homes tend to have more outlets, but older homes can be outfitted with additional outlets by an experienced residential electrician. Hire one who knows the ins and outs of all types of homes – as well as the differing code requirements by county. Hint: That's us!
Change Out Light Fixtures
One of the easiest ways to update a room is to change out your light fixtures. Many homes have builder-grade flush-mount frosted glass fixtures that not only look dated, but also filter a good amount of light.  Updating your light fixtures can make a bedroom pop, or add light to your dining or living room.  We can also install ceiling fans that have light kits to ensure you have air circulation 
Add A Light Fixture
Sometimes we have rooms that just don't have enough light.  Adding a lamp can help, depending upon the location and set up – but sometimes that just doesn't solve the problem.  Enter the expert local electricians near you at Haas and Sons.  We can brainstorm the best type of fixture and location with you, and survey your current wiring to give you the best-case scenario installation for the type of light and safety of placement.
Install an EV charging station
If you're purchasing, or already have purchased an electric vehicle, being able to effectively and quickly charge at home is a must. Relying on commercial charging stations can be cumbersome and expensive.  We install Level 2 charging stations in homes across Anne Arundel and Howard Counties.
Rewire your Laundry Room
Does your breaker trip every time you run your washing machine and dryer at the same time? Are you considering stacking units for space-saving opportunities?  Upgrading your wiring, electrical panel, or just moving some outlets to accommodate the new layout of your laundry room can add value and convenience to your home. We've been performing these tasks in Pasadena, Columbia, Odenton, and the surrounding communities for years. Give us a call!
Upgrade Outdoor Outlets
Whether it's putting up Christmas lights in the winter, or enjoying that outdoor pool or swamp cooler on the patio in the summer – convenient outdoor outlets can make a practical and aesthetic difference in your home. Not only is it necessary to hire an experienced licensed electrician to ensure all of your electrical work is up to code. It's imperative that additions and repairs to indoor and outdoor outlets are done safely. We can help.
If you're hoping to add some lighting or functionality to your home – an experienced licensed professional from Haas and Son's Electric can help. We know the requirements for all local cities, no matter the county code book they operate from. Our team is here to help you achieve your lighting and electrical dreams.  Call today.
What Our Happy Residential Electrician Clients Have to Say on Google
Alex was super professional and helpful. We originally called to get an estimate for removing old wiring from an old shed. Alex walked me through all that could be done to help us. Even answered other questions I had outside of the scope of his visit. Gave us an estimate and said he would get the work done today. He was extremely fast. He even pulled out all the old low voltage wiring we had in the shed. This is our second time using Haas & Sons, and we will be using them for every home project we have moving forward.

Noel W.
⭐⭐⭐⭐⭐
We're proud of our 4.9 rating across 524+ reviews on Google